Business Development
More needs to be done to bring new techniques and developments to a wider audience - the Centre does this.
Dr David Llewellyn, Vice-Chancellor of Harper Adams University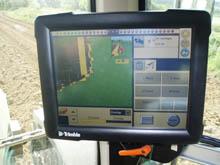 The Centre is inclusive, non-competitive, and used for networking, passing on of information and bringing people together. Its aim is to point farmers in the direction of someone who can help them with specific problems. It also puts on short courses and conferences on precision farming and offer links to centres doing similar work overseas.
Precision farming is still an up-and-coming practice in agriculture in this country and some people are still sceptical. But the early practitioners used technology which is now employed in mainstream agriculture, and many farmers have modified their techniques because of what they've learned by adopting some aspects of precision farming.
The National Centre is a much-needed resource. While farmers are being expected to produce more food, there is a growing recognition of the need to protect soils, manage water and nutrient availability, and improve animal welfare.
Independent advice and research
Farmers can get advice from many sources but often it may be that they have to turn to those who might be trying to sell them equipment and/or services. Farmers need somewhere to go for independent advice.
Harper Adams University - ideally placed
Harper Adams is ideally placed to host this new initiative because of its academic record in agricultural higher education, its strengths in applied research and knowledge exchange and its links with the industry and organisations such as the Institution of Agricultural Engineers and the Agricultural Engineers Association. In discussion with the Agricultural Engineers Association the recently formed AEA Precision Farming Forum works with the National Centre to promote knowledge transfer and help networking.
Open Forum
As new technologies are developed an open forum is being provided by the Centre to critically assess and promote suitable methods for commercial exploitation. Current issues include, for example, compatibility between different ISOBUS (the new communication standard between tractors and smart implements) equipment providers and data exchange formats.