Newport girls work experience at Harper
2 July 2010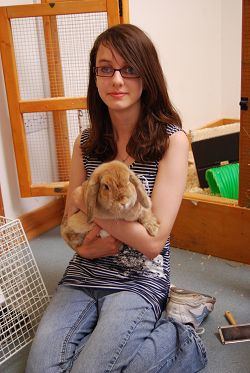 Six students from Newport Girls' High School have spent the past week on work experience at Harper Adams.
The girls worked in different departments at the University College to experience what is expected of them in a job, and to understand what it is like to apply for one.
Most year ten students, aged 14-15, have been working at different locations across the country as part of the curriculum, and the girls have spent their week working in areas such as finance, the farm, business, laboratories and the Companion Animals Unit while at Harper.
Harriet Boxley, age 14, has spent her time working in the press office with Communications Manager, Janine Heath. She said: "I applied for work experience at Harper Adams, because I am interested in a career in both animation and design in film, or in wildlife conservation.
"Harper has a wide range of different work experience options, so I thought it would be a great place to spend my time."
Harriet, from Newport, has helped to direct a news video by interviewing her peers and editing the footage. She has also produced a photographic storyboard, explaining step-by-step how to handle a bearded dragon for the first time.
To see Harriet's work, watch the video.