3rd UK NCFI conference: September 16, 2010
30 July 2010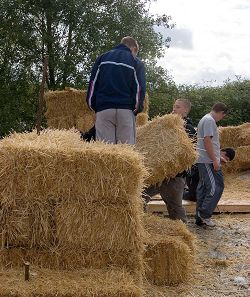 How farming communities can 'help to meet the health and social care needs of our society' will be the main topic of discussion at a conference held at Harper Adams University College on September 16.
The 'Care Farming – Working Partnerships' conference will examine the practical issues facing care farmers, the importance of partnerships in developing successful care farms, and developing an organisation to support the movement across the UK.
Organised by the National Care Farming Initiative, or NCFI, the day will feature both care farming and commissioning speakers, alongside representatives from care farm support and networking groups from across the UK. Keynote speaker, Tom Heap, is the presenter of BBC Radio 4's rural and environment series 'Costing the Earth'.
NCFI Coordinator, Debbie Wilcox, said: "Care farming develops best as a partnership – be that between local and regional groups with commissioners, or with clients.
"This conference, which is the third time it has been held, will be an opportunity to examine how these partnerships work in practice and in turn encourage the development of future care farms."
A care farm is collaboration between a farmer, a care team and people who will benefit from therapy, and can prove life changing for people with health and special needs.
The NCFI in the UK was set up in 2005, inspired by a conference at Harper Adams, in Shropshire, that revealed the potential social and economic benefits to be gained from projects that allow people with physical and mental health problems to participate in normal farming activities.
It was established to raise awareness of the benefits of care farming and to provide practical support and advice to farmers and agencies that wish to become involved. It is supported by its four partners and the Esmée Fairbairn Foundation.
Farming activities and the connection with nature in the rural environment are proven to improve the quality of life for suffers of mental health issues and depression, work-related stress, learning difficulties or those with a drug or alcohol history. Becoming involved with activities on a working farm can also be very beneficial for rehabilitation and re-education for disaffected young people.
His Royal Highness, The Prince of Wales, recently welcomed more than 100 care farmers and their supporters to Highgrove for a lunch reception marking the NCFI's five-year anniversary.
For full details of the conference please contact enquiries@ncfi.org.uk or phone 01952 815335. Alternatively, download a booking form at www.ncfi.org.uk
'Care Farming – Working Partnerships' conference.
Harper Adams University College, Shropshire
September 16, 2010
9.30am- 4.30pm