Students flock to Careers and Placement Fair
18 November 2010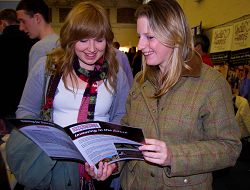 More than 60 companies were scouting for stars of the future at the Harper Adams University College Annual Careers and Placement Fair today.
Almost 200 staff representatives from companies looking for students to take on placement years with them, were on hand with stalls, advice and information this week.
Final year students were also able to look at a range of companies in the agri-food industry and beyond to consider future careers with.
Ex-Harper Student, Amie Burke, completed a placement year as part of her BSc (Hons) Business Management with Marketing degree. Now she is working full time as a Project Executive for the Home Gown Cereals Authority (HGCA), which is part of the Agriculture and Horticulture Development Board (AHDB).
Amie, 22, from Birmingham, said: "I came to the fair in my second year to look for a placement job and again for graduation jobs.
"The placement year is really important, it makes you stand out against all the other people looking for a job."
Also looking for placement students were Noble Foods, home of the Happy Egg Company. Current Harper student, Charlotte Ward, 20, of Buckinghamshire, is a BSc (Hons) Agriculture and Animal Science student on placement with Noble Foods.
She said: "It's nice to have a year out and get experience. I didn't know what I wanted to do, which is one of the reasons I chose this placement. I am getting to experience lots of different things and get experience which will help me when I come to getting a job."
Adriane Westwater, Human Resources Director at Noble Foods, said: "We have had placement students from Harper for a very long time. We get a lot out of it. They are young people with lots of ideas and enthusiasm."
Ex- student, Louise Holt, worked for Genus ABS, which focuses on beef and dairy genetics, during her placement year, and returned to them after graduation. She has been with the company for three years.
She said: "I did the placement that we are advertising for now and then I re-joined the company after my degree. The placement year was very influential in me getting the job and when I came back, it was like I had never been away."
Global chemical giants BASF take six placement students every year who all work in development. The company's own managing director completed a placement with the organisation 30 years ago.
Jennie Watson, Development Agronomist at BASF, said: "We take up to six Harper students every year and at the end, we hope they will come back and work for us. They are integral to the job and the amount of work we do. We couldn't manage all the projects, unless we had these students."
BSc (Hons) Agriculture and Crop Management student, Tom Bell, aged 20, has been on placement with BASF since June.
He said: "I wanted to get some good knowledge and experience to help me with my final year . I would really recommend a placement year, it has helped me figure out what I want to do."