Leading Professor gives talk on GPS systems in agriculture
18 March 2011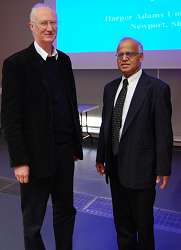 A leading professor from California has given staff and students at Harper Adams University College a lecture on Global Positioning Systems in Agriculture.
Shrini K. Upadhyaya, Professor and Graduate Program Chair from the Biological and Agricultural Engineering Department at University of California Davis, gave a presentation on "Applications of Global Positioning Systems (GPS) in Precision Agriculture" today at the University College based in Shropshire.
Simon Blackmore, the new head of engineering at Harper Adams, introduced Professor Upadhyaya and said it was a "great honour" to see him at the Shropshire-based University College and a "pleasure" to be able to listen to him.
He said: "He has been known as a leader for many years and is a very innovative agricultural engineer.
"I have found him to be a great inspiration in the area we are involved in which is to develop smarter machines which do jobs better and way to develop production agriculture."
Professor Upadhyaya gave his presentation around four main topics – spot specific fumigant applications, mapping plants for weed control, precision canopy and water management of speciality crops through sensor-based decision making and mapping tractive efficiency/optimising power delivery efficiency.
During his talk, he explained that production agriculture had benefitted greatly from the application of satellite based navigation/position systems in recent years and described research activities on precision agriculture at his department at the University of California Davis.
These activities included the development of a Real-Time Kinematic (RTK) GPS to sense seeds and transplants as they are planted and create a plant map for subsequent plant-line weed control, a study of benefits of auto guidance systems in production agriculture and development of spot-specific fumigant application for controlling replant disease in orchards.
He described that through these activities time, money and environmental damage could be reduced - something which he said was vital for producers when trying to keep up with a global market.
During questioning, Professor Upadhyaya, was asked what he thought were going to be the "must have" GPS that commercial farmers would be using in the future.
He said: "The application of GPS in agriculture is going to increase and I know they are working on the application under the canopy.
"If you look at what might be happening to GPS technology there is a lot of interest in cultivating in between the plants- mechanical or chemical weeding.
"We have to compete globally and labour costs are so high – you have to bring down the costs."