Harper Adams breaks into the UK's Top 50
12 September 2011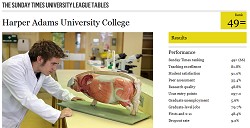 Harper Adams has been our top-ranked university college for the past six years, breaking into our top 50 this year."
Harper Adams University College has broken into the ranks of UK's top 50 universities, according to the latest Sunday Times University Guide.
Up an impressive 17 places from 66th last year, Harper Adams now sits at 49th out of 122 higher education institutions, and has retained its rating as the country's Best University College.
The 2012 Guide, published on September 11, states: "Harper Adams has been our top-ranked university college for the past six years, breaking into our top 50 this year, and it competes for the best students in the UK for its land-based courses. While it has diversified its provision sufficiently to qualify for inclusion in this guide, it is for the study of agriculture and associated subjects that Harper Adams is pre-eminent."
The University College features in many of the guide's "Top for…" tables, including student satisfaction (6th equal), graduate level employment (20th), teaching excellence (6th) and fewest unemployed (7th equal). It is also rated as the 8th best university in the Midlands.
In its niche subject, agriculture, Harper Adams is placed 4th, behind the University of Central Lancashire, Bristol and Nottingham, making the University College the best specialist higher education provider in this area.
The Guide adds: "Students like it here. Fewer drop out than the funding council expects (9.2% against a 13.2% projection) and applications have nudged up a further 2.5% this year following 2010's exceptional 35% rise. The college is ranked consistently in the top 20 in our analysis of the annual National Student Survey (NSS) of final-year students. This year it ranks sixth for both overall satisfaction and for student satisfaction with teaching quality."
Harper Adams Principal Dr David Llewellyn said: "The Sunday Times league table places Harper Adams ahead of many larger universities, reflecting the very high quality of our teaching, the experience we provide for our students and our strong connections with industry. Our performance in the 2012 Guide is the result of the hard work of all our staff and students, and I am delighted that their efforts have been recognised in this way."
The Complete University Guide, published in The Independent earlier this year, places Harper Adams third in the UK for agriculture and forestry, and praises its excellent teaching, high standard of resources to support teaching, and the employability of its graduates.