Extra chance to visit campus
7 November 2011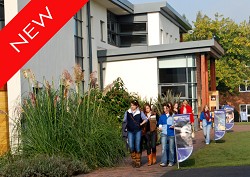 the phone calls and emails are still coming in, so we have had to come up with something new to help out all those secondary school students making their choice of university for next autumn and needing to get their UCAS applications in over the next month or so."
Due to unexpected high demand for visits to the campus, Harper Adams University College has decided to reopen its doors to teenagers trying to decide where they want to begin their studies in 2012.
The University College, which specialises in degree courses related to the agri-food supply chain and rural economy, had completed its programme of open days in October. But with teenagers and their parents still calling up with requests to see the Harper Adams site and hear about the courses on offer, two further "Campus Tour Afternoons" are now being arranged.
Marketing Officer Sally Bishop said: "We held a big open day in May, our residential taster event in July, and two further open days in September and October, which all attracted our highest visitor numbers ever.
"But the phone calls and emails are still coming in, so we have had to come up with something new to help out all those secondary school students making their choice of university for next autumn and needing to get their UCAS applications in over the next month or so."
On Friday November 18, and Thursday December 1, visitors will have a chance to take part in student-led tours of the Harper Adams campus, and ask Sally and colleagues questions about student life, finance and the wider university experience.
Tours will be offered between 1.30pm and 3.30pm on each of the two afternoons, and can be booked here.
Potential students wanting to find out more about Harper Adams can also visit the University College's new Facebook page to interact with staff and students, read the latest news, see photographs of events, and ask questions to help them prepare for 2012 entry to higher education.
Course information can be found at www.harper-adams.ac.uk