Awards for top placement students
14 February 2012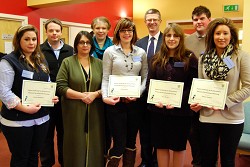 Eight Harper Adams students were presented with special awards recently, in recognition of what they achieved during their placement year.
The Aspire award - a certificate and £50 book token, is given to students that have made the most of their year working in industry.
The majority of courses at the University College in Shropshire feature the placement year, providing on-the-job training for students in a professional environment.
This year, awards were presented to Carly Atkinson, Lucy Burton, Robyn Elliott, Thom Graham, Jen Matthews, Gareth Taylor and Ellie Roberts.
22-year-old Carly Atkinson from Waltham Cross is studying BSc (Hons) Veterinary Nursing and Practice Management, and spent her placement year at Tern Veterinary Group in Market Drayton.
She said: "I'm pretty chuffed with this award even though it was a bit of a surprise.
"After my degree, I'm looking into the possibility of veterinary physiotheraphy, as I know Harper Adams runs a course in it."
Lucy Burton from Stafford is studying BSc (Hons) Animal Behaviour and Welfare, and spent her placement at Jenuine Pets in Stoke-on-Trent.
The 23-year-old, said: "During my placement I looked after the animals, dealt with customers, made displays and opened and closed the shop.
"I'm really shocked and pleased to be awarded this, it's a nice surprise."
FdSc Agriculture student, Robyn Elliot from Worthing, worked for Ermine Farms Ltd during her placement year.
The 24-year-old, said: "I'm really pleased to receive this award, it's nice to know all of the hard work hasn't gone to waste.
"Next year I plan to top-up to a BSc (Hons) degree."
To hear more from these students, watch the video.