Research award for lecturer Domenica
22 March 2012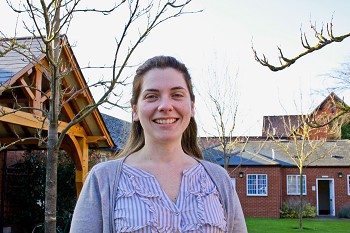 This is one of the strongest groups of applicants we have had for a long time. It is particularly encouraging to see so many young applicants, and hear their enthusiasm for bringing their plans to life in a very dynamic and engaged way."
Harper Adams research lecturer Dr Domenica Gentile has been awarded a prestigious postgraduate honour that will help to fund vital new research and see her travel to her native Italy.
She has been successful in securing a grant from the Farmers Club Charitable Trust (FCCT) through its postgraduate award scheme.
Domenica, Research Lecturer in Social Psychology, will investigate food culture, comparing consumer habits in Italy with those in the UK. She will also be speaking to farmers in both countries to gauge buying habits from their perspective. She is among seven researchers to receive the award this year.
She said: "I am delighted to have been chosen to receive such a prestigious award and I am hoping my research will contribute to the current debate on local food production in the wider context of global food security."
Domenica, who completed a PhD in Applied Psychology with the University of Nottingham, and holds Batchelors and Masters degrees from the University of Rome, attended a selection panel at the Farmers Club in London, where her proposal was scrutinised by former Chief Executive of LANDEX, Vic Croxson; Farmers Club Chairman, Paul Heygate; FCCT Chairman and farmer, John Kerr; trustee and Chartered Surveyor, Stephen Fletcher; and trustee and Essex farmer, James Cross.
John Kerr, said: "This is one of the strongest groups of applicants we have had for a long time. It is particularly encouraging to see so many young applicants, and hear their enthusiasm for bringing their plans to life in a very dynamic and engaged way."
The FCCT post-graduate award assists those employed in agricultural education, aged 22 to 50, to widen and develop their own technical expertise outside of the UK, enhancing their own career prospects and ultimately benefitting all the students for which they are responsible.