Supporting Universities Week 2012
30 April 2012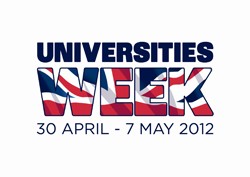 Harper Adams University College is pleased to be supporting the third annual Universities Week campaign, which aims to increase public awareness of the wide and varied role of the UK's universities.
This year's national campaign is focussing on the contribution that our universities make – and have always made – to the Olympic movement, the sports industry and society as whole.
Nicola Dandridge, Chief Executive, Universities UK, said: "From supporting top athletes to providing training facilities for students and local communities, producing world-class sporting research and hosting Olympic teams from across the globe, universities are working together to contribute to the UK's Olympic effort.
"Once again with Universities Week we hope to show that it is not just students who benefit from university, but the whole of UK society."
Harper Adams might be known best for its work to support the UK agri-food chain, but the University College also works hard to encourage and support sport.
In November, Harper Adams was named Employer of the Year at the 2011 Shropshire, Telford and Wrekin Energize Award for the work it does to support sport, fitness and healthy living, from fitness classes on campus, to a bike hire scheme, to hosting community sporting events.
On the academic front, Harper Adams work has included a review of research into stomach ulcers in race horses, human sports nutrition, the effect of the jockey an National Hunt horses, the value of angling to landowners, and an investigation into whether egg products could be a substitute for protein supplements in sports athletes. Furthermore, Harper Adams University College's Masters course in Veterinary Physiotherapy provides support for equestrian events, keeping sporting horses in good health. This list is by no means exhaustive.
Universities Week 2012 follows a successful campaign in 2011, which saw 110 universities and 52 renowned ambassadors take part in showcasing the work of the higher education sector.
Universities Week 2012 will culminate with the BUCS VISA Outdoor Athletics Championships (OAC), a London 2012 test event as part of the London Prepares Series.
Karen Rothery, Chief Executive Officer of BUCS, added: "British Universities & Colleges Sport's vision is to enhance the student experience through sport – what better way could there be than competing in the Olympic stadium itself during Universities Week? And Britain's students will be able to do just that. Sport is taking centre stage in the UK and is enjoying its highest profile for many years. This week is an amazing opportunity for BUCS student athletes, their friends and families and the broader communities to show how their lives are improved by taking part in sport."