The Olympics and Harper Adams - brought to you by two great Shropshire men
2 May 2012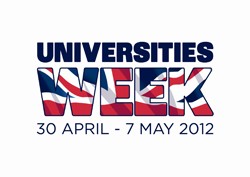 Universities Week 2012: supporting London 2012
Did you know, that the founders of both the modern Olympic Games and Harper Adams University College were both Shropshire men, with a determination to improve the education of the working classes.
Dr William Penny Brookes is widely recognised at the inspiration for the modern Olympics. Penny Brookes founded the Wenlock Agricultural Reading Society, for the "diffusion of useful knowledge". The society had a library for working class subscribers, and a series of interest groups, called classes. The "Olympian class", which inspired people to get fit, and staged the first Games - cultural and sporting - between 1850 and 1860. In 1860, the class separated from the reading society, and the Wenlock Olympian Society was born. Brookes later inspired the setting up of the International Olympic Committee in 1894 by Baron Pierre de Coubertin.
Two years before, in 1882, in Shropshire, wealthy gentleman farmer Thomas Harper Adams died, bequeathing his considerable estate 'for the purpose of teaching practical and theoretical agriculture'. The marriage of the developing science of agriculture to the practice of farming was seen by an increasing number of people as the only solution to the agricultural depression. The 1890s saw substantial financial support for agricultural education and several colleges and university departments specializing in agriculture made their appearance at this time. Harper Adams Agricultural College, however, was the first institution of its kind to be financed by private bequest. The Foundation was set up with the sum of £45,496.
The college opened to just six students in 1901. Today, thousands of students attend Harper Adams, on undergraduate, postgraduate, short course, employer engagement and research programmes.
The modern Harper Adams would make both men proud, offering education, cultural enrichment, a vast array of sporting opportunities, and solid international links.
Universities Week 2012 is celebrating the higher education sector's contribution to the London 2012 Olympic and Paralympic Games