Olympic theme for photography exhibition
3 May 2012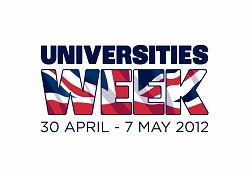 Universities Week 2012: supporting London 2012
As part of Universities Week 2012, Harper Adams University College is pleased to announce that this year's digital photography exhibition will have an Olympic Games theme.
The event, 'Nature's Olympians' & 'Rural Shropshire's Finest', will take place on November 8 at the Regional Food Academy on campus.
It is the third time that the event has been held, but this year, the invitation has been extended to include local artists.
Event organiser, Janine Heath, said: "The digital photography exhibition has proved such a success in the past that we wanted to make it into a more diverse creative experience.
"We are hoping that everyone from school children to semi-professional artists will take up the opportunity to display their work at the exhibition.
"We've chosen the theme to tie in with the London 2012 Olympic Games and hope that by announcing it now, people will have plenty of opportunity to think of creative ways to interpret it."
Both photographs and art installations will be on show from 12pm on the day, with a celebratory reception event scheduled for the early evening.
A panel of judges will be selecting the top photographic images, with winners announced during the evening reception by organisers, Simon Keeble and Janine Heath.
Janine added: "We are accepting up to four digital images or one piece of art from each entrant.
"In previous years, we've had more than 200 photographs, showing off the real talent that we have here in Shropshire."
Photographs will need to be submitted by October 8 and arrangements made for any art installations, also by this date. The theme is applicable only to photographic entries, art exhibits may be of any subject, as long as deemed suitable for the event.
Further information will be released in due course, otherwise contact Janine Heath jheath@harper-adams.ac.uk 01952 815428