Schools' food waste recycled at Harper Adams
7 May 2012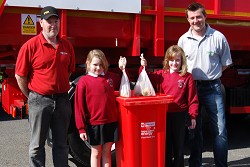 Shropshire Council is committed to supporting sustainable technology and diverting waste from landfill, so we are really keen to see this type of project rolled out against all of our school kitchens."
Leftover food from four schools in Shropshire, Telford & Wrekin is being transported to Harper Adams University College and recycled into heat and power as part of a pilot scheme that could lead to all school waste from the county being fed into a green energy plant.
Harper Adams has developed an anaerobic digestion plant at its campus in Edgmond, near Newport. The AD process converts food and farm waste into heat, electricity and natural fertiliser, benefitting the environment.
Since pupils returned from the Easter break, food from three Shifnal schools; St Andrew's CE School, Idsall School and Shifnal Primary, and from the Charlton School in Wellington, has been taken to Harper Adams by specialist waste contractor Cartwrights, which used a grant from the Waste & Resources Action Programme (WRAP) to covert a lorry into one suitable for the safe carriage of food waste.
Bill Campbell, Business Operations Manager at Shropshire Council said: "This is an exciting pilot project, which will allow us to assess the feasibility and ecological benefits of this waste service against its cost. Shropshire Council is committed to supporting sustainable technology and diverting waste from landfill, so we are really keen to see this type of project rolled out against all of our school kitchens."
James Wood, Harper Adams Energy Plant Manager, said: "The anaerobic digester has now been operational for a year, and we are delighted to be gaining interest and support from the local community. We already have waste contracts with a variety of organisations, but because education is at the heart of everything Harper Adams does, we really hope that the schools partnership is a success and can be rolled out across the county.
"Harper Adams specialises in education relevant to every part of the food chain, from field to fork, and we can now demonstrate the full cycle, with waste food being transformed into energy to power farm operations and fertiliser to feed the land."
Learn more about the AD plant here.