Principal receives gift from 'Planet Harper'
18 May 2012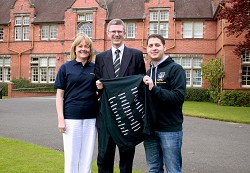 Principal, Dr David Llewellyn, was presented with a piece of 'Planet Harper' merchandise today, to say thank-you for his continued support.
Planet Harper - a group for international students, postgraduates and staff, presented Dr Llewellyn with a new branded hoody.
The group consists of members from as far afield as South Africa, China and the USA. Together they organise activities and social trips to help bring together the multicultural face of Harper Adams.