Principal's statement on university title
12 June 2012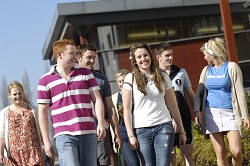 On 11 June the Government announced that it had decided to reduce the number of students required by a higher education institution to use the full university title from 4,000 to 1,000.
Commenting on this announcement, Dr David Llewellyn, Principal of Harper Adams, said:
"We welcome the announcement that university colleges such as Harper Adams will be allowed to apply to use the full university title. Many of these institutions have a long pedigree and outstanding performance in teaching, providing an excellent student experience, in graduate employability and in specialist areas of research. Harper Adams is no exception. The criteria for the award of university title include the need to hold taught degree awarding powers and to have good governance arrangements. Not only do we have taught degree awarding powers, but we also have research degree awarding powers and strong governance, which means that we consider ourselves to be in a good position for an application for university title.
"Not only is this decision good for Harper Adams, but it is also great news for our students, for the industry sectors with which we work and for the local economy. University title will also assist with the international activities that we undertake in agriculture and food, which will be essential in helping meet the challenge of global food security.
"We will shortly consult with other institutions about a change to our name and we then expect to apply to the Privy Council to bring about the change to university status. This is an exciting development for all at Harper Adams and we hope that it will enable our institution to go from strength to strength in the important work in which it is engaged."
Harper Adams is a member of GuildHE, the organisation which represents small, specialist higher education institutions, which welcomed the Government announcement. Andy Westwood, chief executive of GuildHE, said: "The Government's reduction in the qualifying threshold for university title represents the correction of a long-held anomaly.
"Smaller institutions have long offered greater agility, smaller classes, stronger graduate employment and better retention rates. At GuildHE we are proud that our university colleges regularly perform alongside those with the university title in league tables. Six of our university colleges are in the top 30 for graduate employability and most are above the 90% level.
"The GuildHE institutions are established and are both well-known and highly valued in the communities and specific sectors they serve. The opportunity to apply for the university title recognises the excellence and diversity they bring to the HE sector."