Students awarded show scholarships
19 June 2012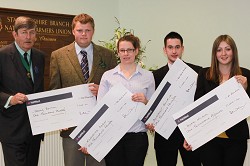 Four Harper Adams students have been awarded scholarships by Staffordshire and Birmingham Agricultural Society.
The society offers up to four scholarships a year, open to all students based in the geographic area the society covers. For several years running, Harper Adams students have swept the board, and 2012 was no exception. This year the students were awarded £1,000 each, during a presentation at Stafford County Show.
Katie Wilson, 21, from Abbots Bromley, Staffordshire, was one of the chosen scholars. The third year Agriculture with Mechanisation student, who is currently on placement with John Deere, said: "I feel very privileged to have received this award. It's nice to be recognised for my passion for my studies and shows other women that they can have a future in agriculture, and in the machinery industry in particular."
Also leading the way for women in farming was Katherine Andow, 21, from Congleton, Cheshire, who is in the third year of an agriculture degree and on placement with Genus PLC. She said: "I am delighted to have received this scholarship. It will help with meeting the costs of my final year, and has also given me this lovely day out at Stafford County Show."
Alastair Bourne, 21, from Ashbourne, Derbyshire, is on placement with JCB in Staffordshire. The third year Agricultural Engineering with Marketing and management student said: "I am really pleased to have been awarded a scholarship by the society. Not only is it going to help next year with fees, but it's also going to help me with the beginning of my career in an industry that I am really passionate about."
Shaun Barron, 21, from Consett, County Durham, but currently living in Staffordshire, said: "I decided to apply because I was living in Staffordshire for my placement year. I feel very honoured that the society has chosen me for the award, which will help with my studies at Harper Adams." Shaun is studying Rural Enterprise and Land Mangement and has spent his placement year with Graham Watkins and Co, in Leek.
The students, and the Harper Adams Development Trust, which administers scholarships and raises funds to enhance the student experience, are all grateful to Staffordshire and Birmingham Agricultural Society.