Star Welsh student features on Ffermio
3 July 2012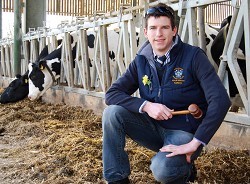 The course opens many doors. In agriculture you can go on to do consultancy or auctioneering work. You also learn a lot of useful information if you were to return home to work on the farm."
Harper Adams University College student, Carwyn Rees, has been featured on a popular a Welsh television programme as "student of the month".
To be featured on Ffermio on prime time S4/C, in Wales, is a great honour for Carwyn. With three generations of his family having studied at Harper Adams, the fourth year student, from Llandovery, Carmarthenshire, has just completed the BSc (Hons) Rural Enterprise and Land Management course at the University College and comes from a dairy farming background where he enjoys "getting dirty and knee-deep in dirt".
An active member of the Harper Cymru society for Welsh students, Carwyn told presenter Daloni Metcalfe: "The course opens many doors. In agriculture you can go on to do consultancy or auctioneering work. You also learn a lot of useful information if you were to return home to work on the farm."
When asked why he decided to come to the University College, he replied: "Harper Adams offered the course I wanted to follow. It's not too close to home, so I knew I wouldn't be hassled to go home to help with the milking!" He also commended Harper Adams's social life: "Harper has a small community, so everyone knows each other."
Carwyn's studies in stock and machinery valuation led to an interest in auctioneering. He said "I enjoyed socialising with farmers and discussing their stock and machinery." There a good balance between the practical and academic aspects of the course, he added.
During the course Carwyn spent one year in industry with Edward H Perkins, a firm of chartered surveyors in Havenfordwest. He found that to be a "great experience", because of the wide variety of activities be took part in. He has been offered work with various firms, but has decided to work at Edward H Perkins upon graduation. He will be working with professional farmers, selling farms and houses, as well as dealing with compensation claims.
Former chairman of the Harper Forum, Carwyn feels the benefits of the course already, "especially now I've competed the one year work experience. I can make the link between the paperwork and the practice work particularly in the area of work I'd like to pursue. The work we've covered on the course will help me when I go out to work".
In his final year at Harper Adams, Carwyn was a warden for one of the University College's halls of residence. This role involved looking after the first year students and making sure they were not homesick, as well as taking them to social events and helping to solve any problems.
It was recently announced that Carwyn is the winner of the 2012 RWAS-Harper Cymry Student Award. Carwyn is the 12th winner of the award, made annually to encourage students to contribute fully to developing both their academic and personal potential. The award is promoted jointly by the Royal Welsh Agricultural Society and Harper Cymry – the Welsh alumni association – and will be presented formally at the Royal Welsh Show on July 23.
Launching in 1997, Ffermio is a prime time series on Welsh channel S4/C, and claims to be the only television series in Britain to specifically address agricultural issues. Watch Carwyn on the show for the next 30 days.