Work experience at Harper Adams
6 July 2012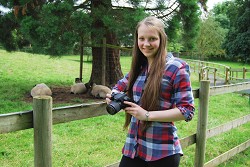 Seeing how videos are edited professionally is a great experience and really lets you know how Harper Adams achieves such a skilled feel and the high standard of its videos."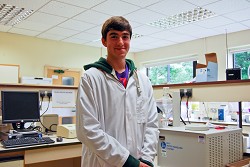 By Serena Gough
Harper Adams University College has welcomed six work experience students, taking part in a variety of activities this week
The year 10 students, Bill Davies, Serena Gough, Molly McCormick, Chris Parsons, Kirsten Sinclair and Alexander Wade, have all been taking part in a week's work experience in various areas of the University College, including Engineering, Laboratories, Companion Animal House, Crop and Environment Research Centre and the Marketing and Communications Department.
Fifteen-year-old Adams Grammar School pupil, Chris, and Kirsten, from Newport Girls' High School, both worked in the labs on chromatography and micro-biology during their time at Harper Adams.
Chris told of how he was enjoying his time at Harper Adams doing work experience: "I'm really enjoying it and having a great experience. I've had a very good week so far and hope that it will continue.
"I thought it would provide a very wide variety of things to do. I'm quite scientific myself, so I thought it was a good choice, because of all their facilities."
Kirsten also spent some of her time in the Companion Animal House, which houses a wide range of small mammals and exotic species including snakes, chinchillas, rabbits, guinea pigs and geckos, caring and tending to the animals, by feeding them and cleaning out their cages. She also learned the best way to handle the animals safely.
She said: "I came to Harper Adams so that I could experience different things that I wouldn't get to do anywhere else, such as coming to the Small Animals Unit, so I could try out new experiences and see if I liked them.
"I am really enjoying my time here, because I get to experience new things and it's been enjoyable all the time. I haven't been sitting down doing nothing. I've always been doing something."
Molly McCormick, also from Newport Girls' High School, worked in the IT department, understanding how the Harper Adams student database and other systems operate, and along with Serena Gough, helped to update information about the newly-constructed Ancellor Yard Farm Education Centre onto the University College's mobile application.
Newport Girls' High School pupil, Serena Gough, spent her week in the Press Office writing and editing articles for a range of audiences. She also had the opportunity to develop and run Twitter and Facebook pages for the University College, helping to publicise the upcoming Higher Education Choices (HEC) overnight residential conference being held on July 8 and 9.
Serena said: "I have enjoyed my time here immensely and would recommend to all. The staff here at Harper Adams University College are very friendly and welcoming."
She has also shadowed video editing. She explained: "Seeing how videos are edited professionally is a great experience and really lets you know how Harper Adams achieves such a skilled feel and the high standard of its videos."
Bill spent his week in the Engineering Department studying the design, development and testing of off-highway vehicles, agricultural vehicles and agricultural machinery, whilst Alexander worked in the Crop and Environment Research Centre, learning about and assisting with field trials.
The University College will welcome a further eight students on work experience next week, and is expected to have mentored a total of 30 in 2012.