Awards for estate management students
22 November 2012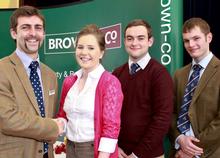 Three Harper Adams students have been commended by property and business consultants Brown & Co for their outstanding performances in Law and Estate Management.
All three students are studying for BSc (Hons) degrees in Rural Enterprise and Land Management. Presented annually, these Brown & Co Awards are made in recognition of the best performances in the Law and Estate Management module.
Rebecca Oddy, 20, from Canonbie, Dumfriesshire; James Boddington, 19, from St Austell, Cornwall and Andrew Price, 20, from Craven Arms, Shropshire received their awards from Edward Plumb MRICS FAAV, an alumnus of Harper Adams who won the same award back in 2008.
Edward is now based in the Brown & Co Norwich office, and undertakes a variety of professional work including property management, agricultural valuation and rural planning
Brown & Co enjoys close links with Harper Adams University College and each year makes the awards with the objective of encouraging the most gifted students in to the property profession.
During today's visit to the Harper Adams for the land management careers fair, members of Brown & Co's land agency and agricultural business consultancy teams provided constructive careers advice to the students, including an insight in to available opportunities within the sector.