Use your melon - get a full fees scholarship for courses starting 2017
18 November 2016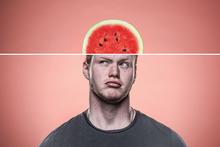 Six students will start at Harper Adams University next September without having to pay a penny towards tuition costs.
The university will this week launch the Success Scholarships 2017. Each scholarship is worth £29,600 and will cover the full cost of tuition for a four-year honours degree course.
"We are launching these awards because we recognise that university education is a serious financial commitment," said university director Simon Pride. "To ensure that we get the brightest and best students from under-represented backgrounds, we're offering six amazing scholarship opportunities.
"We would encourage anyone who thinks they might qualify to visit the website, check their eligibility and make an initial application.
"If they meet the scholarship criteria, they will be invited to submit a short essay, provide an academic reference from a teacher, and ultimately attend an interview at the university.
"This is a fantastic opportunity because not only will the successful students get a fee-free university education, they will also get a foot in the door of the agri-food industry, which currently employs 3.7 million people in the UK but needs a further 250,000 employees by 2020. The career opportunities are tremendous."
To be eligible to apply, students must have eight GCSE qualifications at grades A* to C, have a household income below £62,187, be able to start their course in September 2017 and live in an area or attend a school from which low numbers of young people progress into higher education.

Learn more here.