Enterprising Students from Edgecliff School in a Panic Over Pizza!
28 June 2007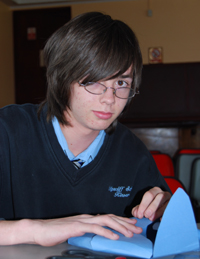 Enterprising students from Edgecliff High School, Kinver, Staffordshire have been testing their business and enterprise skills at Harper Adams University College, Shropshire.
Nearly 120 Year 10 students spent a day at the University College learning how to set up and run a successful business. The business simulation 'Pizza Panic' day allows competing teams to run a pizza takeaway for a year. The year of the exercise is divided into four quarters and the teams make decisions on running their businesses each quarter. The winning team is the one with the highest profit at the end of the year.
The students look at how businesses run and operate the business. They choose the location, purchase the business premises, conduct market research, specify their target market, create a brand and marketing strategy and manage income and expenditure. They name their shop, design publicity material and even design their own pizza boxes.
Pam Whitehouse, lecturer in the Business, Management and Marketing Group and Pizza Panic Co-ordinator says "The students have worked very hard and with great enthusiasm. They are keen to understand what needs to be done to make their business a success. Hosting the event at Harper Adams also enables the students to experience a taster session of higher education."
Pizza Panic is particularly suitable for those students wishing to pursue courses in business studies and management and other related disciplines.
All the students from Edgecliff High School receive a certificate and the winning business team pick up medals and prizes.
Dianne Goring, teacher at Edgecliffe High School said "The students were able to develop their knowledge and understanding and they have come away focussed on business management. It is an extremely beneficial experience in a university environment."
The winning team of four were Grötty Grubé (pronounced Gröwty Grubé). Not only did they make the most profit on the day, but the most profit in the five years that Pam has been running the scheme.
For further details on Pizza Panic please contact Pam Whitehouse:
pwhitehouse@harper-adams.ac.uk