New Equine Seminars Launched at Harper Adams
22 August 2007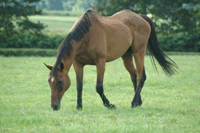 Harper Adams University College, Shropshire, is pleased to announce the new season Equine Seminars this autumn. The one-day Equine Law seminars, which are scheduled for Thursday 11th October 2007 and Thursday 24th April 2008, are specifically designed for professional advisers with equine business and horse owner clients, keen amateur riders and horse owners, anyone running or planning small equine businesses such as livery or teaching, organisers of Pony or Riding Club events and for those planning farm diversification.

In a world where law impacts so heavily, whether it be compliance matters such as health and safety, planning law, business practice such as employment law, contract law and business structure through to liability for injury or financial loss through accidents, it is becoming essential to have a keen awareness and understanding of individual and business responsibilities and actions that should be taken to minimise risk.

Carrie de Silva, Senior Lecturer in Law and Taxation opened the Equine Law Centre at the University College in response to the unprecedented demand for information specifically relating to the equine industry. She is constantly developing the range of seminars and bespoke tailored courses for individuals and businesses, delivered on and off-campus to clients including the British Horse Society, Hampshire Police and the South Essex Insurance Bureau.

She explains; "Law is often perceived as a complicated subject but the equine seminars will help answer many of the questions and queries that individuals and business representatives have. On completion of the course delegates will have a firm understanding and awareness of various issues that ultimately will assist them take a responsible approach to running an equine business or society and horse ownership and handling."

The course content covers many subjects including the purchase and sale of horses, grazing, animal welfare law, riding on the road, rights of way, licensing, planning, health and safety, occupiers' liability, negligence, taxation and the equine business.
As well as the scheduled Equine Law Seminars at the Shropshire-based University College, courses can be delivered off-campus, at your own location, as well as being tailored to meet the specific requirements of the client. Carrie de Silva will be more than willing to discuss individual requirements.

The one-day Equine Law Seminars at Harper Adams University College are £70 per delegate and includes refreshments (morning coffee, light lunch and afternoon tea) and a complimentary copy of Equine Law, a book that accompanies the training course.

Delegate Enquiries: please contact Carrie de Silva on 01952 815304 or e-mail: cdesilva@harper-adams.ac.uk

Harper Adams also offers a wide range of short courses including crop related, business management and marketing, animal related, engineering and rural affairs and environmental; courses. For further details please visit: www.harper-adams.ac.uk/shortcourses or order a brochure from lchapman@harper-adams.ac.uk Tel: 01952 815324