Something's Fishy at Harper Adams!
3 December 2007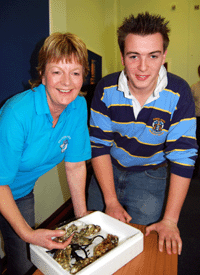 Students at Harper Adams recently welcomed guest speaker Fiona Asson, co-owner of Fish in a Box, to the University College where she presented a case study that outlined the development of the thriving Newport-based business.
As part of the Rural Business Opportunities module the Agriculture with Land and Farm Management students were given an insight into how a successful local business was established.
Fish in a Box is a home delivery service of fresh, quality, hand selected fish, direct from the coast. The fish is delivered by their own fleet of vans to homes throughout Shropshire, the Welsh Borders and parts of Staffordshire and Cheshire. It offers a bespoke service that makes its unique and innovative and therefore an extremely interesting case study for students.
Fiona described her experiences of idea generation, market research and analysis, development of the product and services, set-up costs, marketing methods and the rapid expansion of the business. Students were also able to sample some of the product range.
Student, Peter Sharpley from Thornhaugh, Peterborough commented "It has been an enjoyable morning and it is most beneficial to be able to find out about real examples of innovation and business start-up. It is an excellent way for us to be able to appreciate the theory behind creating business opportunities."