Awards for latest cohort of fresh produce trainees
2 August 2011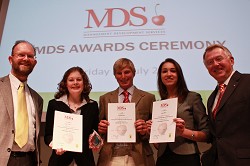 See bottom of page for slideshow of images
Video - large file size, allow buffer time.
The latest cohort of newly-qualified fresh produce managers were honoured at Harper Adams this week, at the 2011 MDS Awards.
MDS (Management Development Services) delivers a two-year Post Graduate Certificate in Food Fresh Produce Management, accredited by Harper Adams. Management trainees combine off-the-job courses, personal development and secondments with four different employers to build their knowledge of all aspects of the industry.
From a variety of backgrounds and with first degrees in diverse subjects including law, nutrition, anthropology and languages, groups 24 and 25, who completed their training at the end of 2010 and in spring 2011, united in the Regional Food Academy at Harper Adams to celebrate their successes.
Presenting the successful trainees with their awards, Doug Henderson, Chairman of MDS, said: "These awards are only possible through what still remains, and I think sadly, a unique relationship in employer engagement between a university and an industry body, Harper Adams and MDS.
"An important component of this relationship is a critical annual review of its outcomes. This year, I can report that it's the opinion of the external examiners that the programme, and the work submitted by our trainees, is very, very impressive, and that opinion is supported by the academic staff here at Harper Adams."
Charles Cowap, Director of the Rural Employer Engagement Development Network (REEDNet), through which the course is accredited by Harper Adams, said: "We really have been on a remarkable journey with MDS from when we first talked to Doug Henderson and his colleagues in 2006. It was in 2007 that the first trainees actually embarked on the first postgraduate certificate qualification, graduating in 2009. And now we are having our third achievement ceremony. Well done everyone."
One member of each training group was then presented with awards by the Fresh Produce Journal (FPJ). The magazine rewards the trainee who has prepared the best synoptic paper each year, and publishes the successful written work in the magazine.
Group 24 student, Adam Hill had his work published six months ago, and Group 25's Sally Dutton will see her words in print this week. The pair received their awards from FPJ Features Editor Liz O'Keefe.
The newly qualified fresh produce managers who attended the ceremony are:
Adam Hill, 25, from Reading, now employed by Greencell
Sally Dutton, 26, from Wolverhampton, now employed by G's Marketing
William Telfer, 25, from near Lochgelly, Fife, now employed by Barfoots
Hannah Dickinson, 23, from Stamford, Lincs, now employed by British and Brazilian
Richard Bower, 25, from Penkridge, Staffs, who is using his new skills on the family farm
Laura Baver, 25, from Cheltenham, now employed in the pharmaceuticals industry.
The trainees will officially graduate alongside about 600 other Harper Adams students at the University College's graduation ceremony on September 23.
MDS Ltd and Harper Adams University College launched the Postgraduate Certificate in Food and Fresh Produce Management in October 2007, when it was the first course of its kind. The accredited two-year management revolves around four secondments of about six months each, combined with off-the-job learning from external tutors, many of whom are industry experts.