Learning to build fences
23 April 2012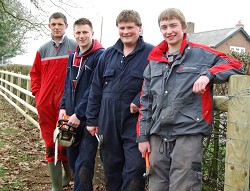 Students learnt how to successfully construct fencing thanks to the Land-Based Skills Programme at Harper Adams University College.

The four of them spent two days learning the theoretical and practical skills required to build both post and rail, and wire fencing.

For practice, they built around the grounds of the main building.

Watch the video to see them in action.