Dairy Technology Event 2012
24 April 2012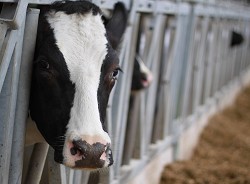 Harper Adams University College is preparing to host the Dairy Technology Event 2012, on May 2.
In a continually shifting and difficult economic climate, the event will give dairy farmers an opportunity to listen to and gather ideas to help tackle some of today's leading issues.
This unique exhibition is based around Harper Adams University College's £2.3 million dairy unit and features a comprehensive seminar programme, which includes a range of top presentations from industry experts, as well as farm walks and key exhibitors from the industry.
The exhibition features stands from more than 30 leading suppliers to the industry, including companies supplying a wide range of services and equipment. Exhibitors range from housing and milking equipment suppliers through to animal health, breeding and genetics specialists as well as leading farm machinery makers.
A comprehensive seminar programme, running throughout the day, provides visitors with the opportunity to learn from some of the country's leading farmers and dairy sector specialists.
Amongst the speakers will be Robert Newbery, Chief Dairy Advisor to the NFU, who will talk about how the NFU is working to create an environment in which dairy farmers can fulfil their potential, and Nuffield Scholar Rhys Williams, a first generation dairy farmer who milks 1,400 cows over two sites will be speaking about the opportunities within dairy farming over the next 20 years.
Entry is free to visitors who pre-register by either filling in the form at www.farm-smart.co.uk/dairy-technology/booking or by telephoning 0845 4900 142, right up until the event (Tickets can be emailed). The entry price for visitors who have not pre-registered is £5.00.