ISLE project meeting
1 May 2012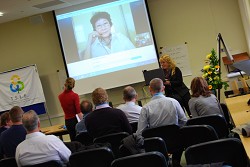 Academics from 30 different countries came together to discuss the use of sustainable development in life sciences, at Harper Adams University College, recently.
The ISLE Erasmus Academic network involves higher education institutions, research institutes and enterprises that are interested in introducing the concept of sustainable development in their curricula and/or institutions with experience in this area, that are willing to share their know-how.
The network hosted its Exploitation Seminar at Harper Adams in Shropshire, which was facilitated by the Institute for the Study of Knowledge Management in Education (ISKME USA) using the 'Action Collab' format.
Action Collabs are dynamic workshops that use the design-thinking framework to innovate new ideas with actionable steps.