Featured student of the month - Sam Davies
1 June 2012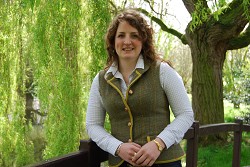 A monthly special featuring a current student from Harper Adams.
Harper Adams REALM student, Sam Davies, was so motivated by the changes that her family business chose to make, that she based her final year research project on the subject.
The 22-year-old from Claverley, Shropshire, wrote 10,000 words for her dissertation entitled, 'An investigation into the changes in farming systems as a result of the closure of Allscott and Kidderminster sugar beet factories.'
The former Wolverhampton Girls' High School student, said: "The family contracting business had two six-row self-propelled sugar beet harvesters at the time of the closures.
"We sold the redundant machinery and thought about other means of making the business viable, so we chose to expand further into forage harvesting and high quality horse haylage".
"I wanted to explore the closures further so decided to write my dissertation on the subject."
Sam and her brother, Andy, who graduated from Harper Adams in 2010, have both contributed to the family business.
From the age of 16, Sam has been driving tractors all over Shropshire and neighbouring counties to help with contracts.
She added: "Sometimes clients can be quite surprised when 'Sam' is sent out to them and it turns out I'm a girl, but I really enjoy playing an active role in the business."
Sam spent her placement year at Burghley Estate in Lincolnshire where she was involved in estate management. She recently secured a graduate job with Balfours in Shrewsbury as an Assistant Land Agent, which she starts in July.
Sam, who also enjoys horse riding, hockey and polo, added: "Being at Harper Adams and experiencing a hands-on form of learning really suits me because it's not just theoretical, you're taught how to apply what you've learnt in real life situations."