Agri-honour for Harper Adams stalwart
22 May 2012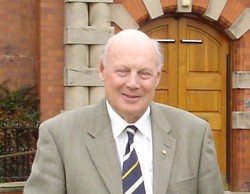 Harper Adams University College stalwart Bill Ratcliffe has been directly elected a Fellow of the Royal Agricultural Societies for his outstanding contribution to the farming industry.
Mr Ratcliffe, of Narberth, Pembrokeshire, is President of the Harper Cymry Alumni Association and a fellow of the University College.
Alumni Officer Julie Brook said: "Bill attended Harper Adams on the National Diploma in Agriculture course in 1941-43 and has supported us in many ways for a long time, including as President of the Harper Cymry association and as one of the founder donors to the Alumni Centenary fund along with his fellow alumni. Everyone at Harper Adams was delighted to learn of this well-deserved honour."
Mr Ratcliffe began his career in the National Agricultural Advisory Service in Staffordshire. He was promoted to Senior Agricultural Adviser and moved to Carmarthenshire in 1956, remaining in the principality ever since and eventually becoming Head of the Agricultural Development and Advisory Service in Wales.
While in Carmarthenshire he developed group advisory methods, established a monthly technical journal and advised on land restoration following open cast mining operations in the county.
He was appointed Deputy County Adviser for Glamorgan in 1960, County Adviser for Pembrokeshire in 1965 and with the formation of ADAS in 1971 he became Divisional Officer for Dyfed, managing all the ADAS services in that county.
In 1976 he moved to Aberystwyth to become Regional Technical Development Advisor for Wales and was subsequently appointed Deputy Regional Agricultural Advisor Wales.
In 1980 he was appointed Head of ADAS Wales and became the key link between the service and the Welsh Office, advising Ministers on technical agricultural issues. He was involved in establishing the Food Farming and Wildlife Advisory Group (FFWAG) and Coed Cymru before retiring from ADAS in 1983.
In 1980 he joined the board of management of the Royal Welsh Agricultural Society and has been an active participant in the affairs of the RWAS serving on several executive committees. He is chairman of RWAS Enterprises Ltd, which was set up as the commercial arm of the society and is also Assistant Honorary Director for Special Guests at the Royal Welsh Show, a role in which he welcomes important visitors to the event from the UK and overseas.
In 1989 he was awarded the OBE for services to agriculture and in 2005 received the RWAS Silver Medal in recognition of his contribution to the society and the Royal Welsh Show. In the same year he was made a Fellow of Harper Adams University College.