Featured student of the month: Stephanie Bayford
1 December 2015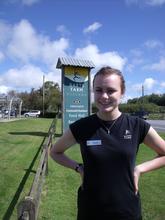 Probably the best decision I've ever made ...I really want more people to realise what an opportunity they have when they're offered the prospect of going over to America to study."
A monthly special featuring a current student from Harper Adams University.
"Grab the opportunity to study overseas – it's the best decision you will make other than choosing Harper Adams!"
That's December Featured Student of the Month, Stephanie Bayford's message to fellow students.
During 2014/15, Stephanie undertook a split placement year, spending six months working at Darts Farm in Devon, then six months studying at Kansas State University in the USA.
Stephanie, 21, from Leeds, is in the final year of the Food and Consumer Studies degree at Harper Adams. She said: "I spent half my placement year at Darts Farm, a large farm shop on the outskirts of Exeter. I found this through Harper Adams and even though it was meant to be a 12-month placement they were willing to change it to six months to allow me to take part in the Kansas State exchange.
"I learnt a lot in those six months working in the marketing department. I helped run events, looked after clients, supervised staff, created promotional material, met our suppliers and much more. I had never had a full-time job before so I gained a lot of new skills and improved many of my personal attributes.
"Moving over to America for six months was a very nerve-racking experience; not only was I in a different country and had to get used to being in a whole different university atmosphere, I also did not have much of an idea what to expect as I was the first student from Harper Adams to study at K-State.
"It was a long process getting there - having to apply, choose courses, finding accommodation and gaining a student visa. But it was well worth it. I ended up majoring in General Agriculture and studying four modules – Advanced Applications of HACCP Principles, Human and Cultural Diversity in Agriculture, Fundamentals of Food Processing and Meat Science – within the agriculture department.
"Class sizes varied from 10 to 100+ but all my professors were informative and welcoming. The grading system is slightly different which took some getting used to but it really benefited me and I came out with As. I spent a lot of my time in the amazing five-storey Hale Library, using many of their resources and admiring the beautiful architecture of the Grand Hall.
"I lived on campus, sharing my room with a lovely American girl called Rachel. Each floor of the hall also had a common room, meaning it was easy to make friends on the floor. Living in halls meant that I was immersed into the American culture - and their food. Everyone at K-State is extremely welcoming and friendly. It was also great being there for a few days before the American students arrived back as it gave the international students time to get to know each other. I met a lovely girl from Sweden who I spent a lot of time with. It was nice comparing our countries to the one we were in and having someone there who knew how you were feeling.
"I also had the chance to travel a little. There were a few weekends when some of my friends took me back to their homes, so during the semester I visited Garden City, Witchita and Kansas City (KC). I spent spring break with friends in San Antonio. And just before the end of term, I had the opportunity to go with one of my classes to a food processing plant; it was a very small one but it was a great chance to actually see how they did things in America.
"After my exams ended I did some more travelling, going from Kansas to Dallas then onto San Francisco, where I cycled across the Golden Gate Bridge and rode the cable cars. I then flew to Seattle where I met some really friendly people and explored the vibrant city with them. After this I flew to Colorado Springs where I met some friends from K-State and went cycling, white water rafting and swimming (both intentionally and unintentionally!). My friends and I then road-tripped back to KC where I said my final goodbyes and flew home.
"I feel it was a bit of a whirlwind six months. I had times when I had to study hard but also times when I could go to my first ever rodeo or baseball game or drive-in cinema. I had so many great experiences and I learned a lot.
Going over was probably the best decision I've ever made (other than coming to Harper Adams of course). I really want more people to realise what an opportunity they have when they're offered the prospect of going over to America to study. I would highly recommend going to America to study, especially to K-State to anyone who has the chance."