Agricultural Student of the Year title won by 2016 graduate Nicola Blowey
21 October 2016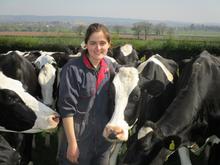 Nicola Blowey, who graduated from Harper Adams University this year, last night scooped the Agricultural Student of the Year title at the British Farming Awards.
Nicola, the fourth Harper Adams holder of the title in as many years, was unable to attend the awards ceremony as she is working in New Zealand. But her parents collected her prize and a group from the university, including fellow finalists Andrew Harrison and Gwesyn Davies, were there to cheer her success.
Nicola, from Devon, graduated in September with first class honours in agriculture. She was nominated for the BFA honour, sponsored by Kubota UK, by the agriculture course team at the University due having an excellent track record of academic achievement, making a significant contribution to the university community and for making the most of every possible opportunity to expand her skills and knowledge. Read more about Nicola's impressive CV and experiences here.
Principal Lecturer Dr Russell Readman said: "Nicola was an outstanding student who took every opportunity to engage in a wide range of activities to augment her academic studies and to put herself in the best possible position for what I am sure will be a highly successful career."
Dr Readman, who attended the awards with colleagues, added: "The agriculture team at Harper Adams is incredibly proud to have taught four successive winners of the Agricultural Student of the Year award."
Congratulations also go to further successful alumni:
Ben Stanley, Tori and Ben's Farm, Derbyshire. Winner of the Beef Innovator of the Year category. Ben graduated from the agriculture degree programme at Harper Adams in 2002.
Matt Redman, winner of Contractor Innovator of the Year, completed his agriculture with mechanisation degree in 2010.
Will Probert, winner of New Auctioneer of the Year, graduated from the rural enterprise and land management degree in 2015.