Environment Secretary explores university's 'vital role' in advancing UK agriculture
3 March 2017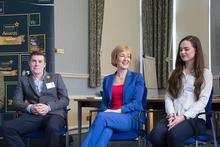 It was a great pleasure to meet some of their exceptional students today who will be at the forefront of our world leading food and farming industry in years to come."
While in Shropshire yesterday, Secretary of State for Environment, Food and Rural Affairs, Rt Hon Andrea Leadsom, MP, paid a visit to Harper Adams University to meet some of its students and to see the cutting-edge work it is undertaking on the application of agricultural technologies
Dr David Llewellyn, Vice-Chancellor, hosted the visit, which began with a tour of the University campus and recent developments that are making a significant impact on the University's research programmes and on its facilities for teaching.
Environment Secretary Andrea Leadsom said:

"Institutions like Harper Adams University play a vital role in helping the UK farming sector take advantage of the latest technology, as well as developing the farmers of the future. It was a great pleasure to meet some of their exceptional students today who will be at the forefront of our world leading food and farming industry in years to come.
"Ensuring our vital food and farming industry has the talent and resources needed to grow more, sell more, and export more of our Great British food is one of my key priorities.
"As we prepare to leave the EU, we will be designing a food and farming system tailored to our own needs. I want to give everyone the opportunity to have their say to ensure we build policies that help this vital industry thrive and I look forward to working with stakeholders from across this industry, as well as the Devolved Administrations, to hear their views and work together to build a bright and prosperous future for our farmers."
University Vice-Chancellor Dr David Llewellyn said:
"We are delighted that the Secretary of State was able to visit the University today. We are working hard to supply industry with talented new entrants, and to conduct research which will impact directly upon food production, so it was good for our contributions to the future of UK farming and food to be acknowledged in this way.
"The Secretary of State has much to consider as we face a challenging period in creating a new framework for the agri-food sector in the coming years, so it was particularly pleasing to see the views of the next generation being taken into account during her visit."
The first stop on the tour was the Jean Jackson Entomology Laboratory, where Lecturer, Tom Pope, explained his group's work on Integrated Pest Management (IPM) systems, which has a particular emphasis on biological control, bio-pesticides, chemical ecology and insect behaviour.
Tom employs tiny electronic radio frequency tags to track crop pests, and the Secretary of State was shown how the development of 'precision entomology' could allow us to better understand pest behaviour, even below ground, to better target natural eradication measures
It was then on to the Agricultural Engineering Innovation Centre where Professor Simon Blackmore and Lecturer, Kit Franklin, explained some of the University's latest work on agri-technologies. This included the Hands Free Hectare initiative to grow a crop of barley without a human setting foot in the field. As a world-first, this project has attracted interest from across the UK, within Europe and as far afield as China and Canada.
The team is currently automating equipment for the forthcoming drilling season and the Secretary of State was able to see some of the technologies being used in this innovative work.
The University's new laboratory building, the Dairy Crest Centre for Innovation and the Agri-tech Innovation Hub, which forms part of the UK Strategy for Agricultural Technologies and which will house further research activities with industry, were all viewed on the tour, underlining the critical role being played by Harper Adams in the delivery of a sustainable future for UK farming and food as we move towards Brexit and a new domestic strategy for the sector.
The Secretary of State was able to meet some of the University's students who may well play a key role, post Brexit, in helping shape the agri-food industry and contributing to its success. The Secretary of State posed a series of questions to the students based on her 'five principles for farming' post Brexit: trade, productivity, sustainability, trust and resilience.
Mrs Leadsom highlighted, in particular, her desire to persuade a new generation to embark upon careers in agriculture, to secure the future of farming in Britain and to help the industry meet future challenges.