Clearing call led me to the best decision ever, says business student Annabelle
17 August 2016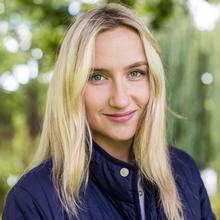 ... the phone call to Harper Adams University settled me, and I soon knew I was making the right decision."
Calling the Harper Adams University Clearing hotline [01952 815000] in 2013 seems like a lifetime ago to Annabelle Gardner, who has amassed a wealth of knowledge and unexpected experiences in her time as a business management and marketing student.
Annabelle, 22, from Eccleshall, Staffordshire, has just completed a one-year work placement as university staff and is having a well-earned break before returning for her fourth and final year of study.
She shared her experiences of Clearing and the student life that followed.
"I had always known about Harper Adams University. I knew of its amazing reputation, pretty campus and fantastic job opportunities, but I had never considered how perfect it would be for me until it came to Clearing.
"Results day was stressful, I had lots of people trying to tell me what I should do, but ultimately the phone call to Harper Adams University settled me, and I soon knew I was making the right decision.
"The clearing process was made very easy by the Harper Adams clearing staff. It involved a relaxed phone call where all options were discussed and the confirmation was given that I had been accepted to to study the Business Management and Marketing BSc degree – so much excitement followed at the thought of being a fresher!
"Since being at Harper Adams University I have had so many great opportunities and fantastic experiences. I attribute most of this to the compulsory placement year on all courses.
My placement year took me around the UK working for the Harper Adams Marketing Department. It was great fun and so valuable. A highlight has to be getting involved in the BBC Radio 1 Scott Mills Student Tour which brought Ed Sheeran to our campus! As a member of the staff team supporting the broadcast I had access all areas and turned my hand to a variety of tasks.
"I even got to visit the Radio 1 studios later in the year, while in London working on a Royal engagement, at which the university Chancellor, the Princess Royal, met donors to the university.
"Harper Adams is a great university, with extremely helpful and knowledgable lecturing staff. The facilities and campus are brilliant, not to mention the variety of sports you can take up. Campus life has something for everyone and has a really friendly atmosphere, which leads to a great balance between social and work life.
"So, yes, that phone call back in 2013 was one of the best I ever made!"
If you want to talk about securing a place through Clearing or Adjustment, ring 01952 815000 from 7.30am on August 18th, or visit harper.ac.uk/clearing