MSc / PgD


Veterinary Physiotherapy
Key Facts
Final award: MSc

Intermediate awards: PgC Animal Musculoskeletal Function and Dysfunction
PgD Veterinary Physiotherapy

Duration: Three years part-time.

Entry requirements: Candidates would be expected to have obtained a minimum of a 2:1 in an animal science/health, veterinary nursing or physiotherapy degree and have animal handling experience. We also welcome applications from Veterinary Surgeons.
For all applicants, evidence of previous qualifications is required.
English Language Requirements: Click here for the English language levels accepted by Harper Adams University for overseas candidates.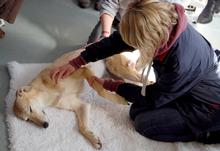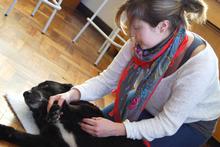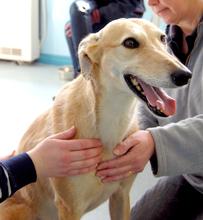 The course
We have a long history of successfully delivering animal science-related courses in conjunction with animal healthcare organisations, for individuals and their employers. This programme is another example of collaboration, this time with the National Association of Veterinary Physiotherapists (NAVP). Delivery, therefore, will be provided by colleagues from Harper Adams, technical specialists who are members of NAVP and also specialist external academics.
The programme fulfils the need to support veterinary surgeons who treat both companion and large animals. The veterinary physiotherapist (VP) can provide this support during an animal's recovery from injury or surgery as well as in preparation of the athletic animal. Considering the number of animals owned and cared for in the UK and a general wish for high standards of animal health and welfare, there is now a growing need for well-educated and highly qualified, accredited VPs to provide this sort of service.
This programme is delivered on a part-time basis and studied over three academic years, with students completing the taught modules within the first two years and completing the Masters Research Project within an individually negotiated timescale over one to two years.
Please note that the course begins in July.
How will it benefit me?
Veterinary physiotherapy is now well established as a mainstream treatment and offers the opportunity to become part of a growing professional community. Successful completion of this programme will provide individuals with more extensive opportunities for graduate employment as a VP in the animal health sector by developing the specific scientific, technical and business skills required. On successful completion, students will gain a recognised Higher Education postgraduate qualification as well as professional membership to NAVP, which is recognised by both practising veterinary surgeons and lead sector insurers as valid providers of specialist veterinary physiotherapy.
Application process
Final applications for entry in 2016 close on 11 March 2016. The course starts in July 2016. If you would like to apply for a place, please complete and return the application form (available on the Applying page) to:
Heather Hogan
Postgraduate Office
Harper Adams University
Newport, Shropshire, TF10 8NB
There will be two interview/open days; in January and April 2016 (Dates to be confirmed), where individuals will be selected from the applications received. The first one in January will be for those applications received before the 4 December 2015; the April open day will be for all those applications received before the final closing date.
If you are shortlisted for one of the interview/open days we will be in touch with a date and time.
A waiting list is also kept in case applicants decline, or fail to take up, their offer.
Further information
For course structure information select the 'Course structure' tab, or download our Frequently Asked Questions PDF.
Due to the course being a part time course only, Harper Adams are unable to accept International Students who will require a Tier 4 Visa. If you require more information on this please visit the UK Visas and Immigration website.
Contact Information
Carole Brizuela
Senior Lecturer, Programme Manager for Veterinary Physiotherapy
Email: Click here to contact Carole Brizuela
Telephone: +44 (0)1952 815418
Fax: +44 (0)1952 814783

For further information on any aspect of postgraduate study, or to receive an application form please contact:
Heather Hogan
Postgraduate Administrator
Telephone: 01952 815289
Fax: 01952 814783
Email: Send Heather Hogan a message
Course Structure
Year 1
Year 2
Year 3
Year one focuses on the pre-clinical aspects.
(All at level 7 unless indicated)
Year two takes a clinical approach.
(All at level 7 unless indicated)
All at level 7 unless indicated
PgD Veterinary Physiotherapy
MSc Veterinary Physiotherapy
Professional Skills for Veterinary Physiotherapy (level 6)
15
Physiotherapy Techniques
15
Research Project
60
Comparative Veterinary Anatomy and Locomotion
30
Remedial Exercise Prescription
15
Musculoskeletal Injury and Disease
15
Professional Practice for Veterinary Physiotherapists
30
To be undertaken in alignment with each module throughout the PgD:
Skills Enhancement Log
Teaching and learning methods will include formal lectures, laboratory practicals, demonstrations and professional clinics. Typically, modules will be assessed through formative in-course and summative end-of-module time constrained assessments. Importantly, practical competency tests in four of the seven PgD modules must be completed successfully in order to pass that relevant module. High quality 'hands-on' skills are recognised as vital for such a practical profession so all students must successfully complete a Skills Enhancement Log over the period of the PgD.
Careers
There are many career opportunities available to the qualified VP such as direct or self employment within a veterinary practice, teaching and research positions in academic institutions and also within the growing sector of sports performance development. Currently, there is more demand than there is supply. Therefore, much work is turned away simply due to lack of time on the part of the VP. In the future, employment as a VP may depend on the individual being a member of either NAVP or the Association of Chartered Physiotherapists in Animal Therapy (ACPAT) due to the increasing regulation of complementary therapies within the animal health sector.
Related files to download