BASIS - Certificate in Crop Protection
Dates
24-28 Apr 2017
Part II
24-28 Apr 2017
Part III
17-21 Jul 2017
Part III
17-21 Jul 2017
Part I
4-8 Sep 2017
Part II
8-12 Jan 2018
Part III
Prices
£1435.00 (tuition only)
Examination fee: £390
Lunch and beverages: £18 per day
Full residential rate: £66.50 per day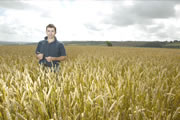 This course is designed for field, sales and technical staff, professional consultants, advisers and representatives working in the crop protection industry. It will also be of value to managers of crop protection products and farmers of any large arable concerns. Concise BASIS is run as a block release course intended for those candidates whose knowledge of crop protection is incomplete. A large part of the course is home work-based as the candidates develop crop-walking skills. The course is intensive and is appropriate only for candidates who have some prior knowledge or experience of UK Agricultural crop production and protection.
Benefits
As a result of this course, participants will be able to:
Appreciate the hazards of crop protection chemicals, encourage safety consciousness and be aware of legal obligations.
Understand equipment and techniques for applying crop protection materials.
Understand the nature of crop protection chemicals and biological control agents.
Recognise disease symptoms, evaluate disease problems and be able to advise on the choice of appropriate control measures.
Recognise pests and pest damage, foresee and forestall pest problems and choose safe and appropriate control measures.
Recognise weeds and evaluate safe and appropriate control measures.
Discriminate between crop damage directly induced by environmental factors and damage caused by pests and pathogens and evaluate possible methods which may be adopted for prevention or control.
Understand the biology of weeds, pests and diseases.
Understand the principles and concepts of Integrated Crop Management (ICM).
Advise on the factors involved in, and the problems associated with an ICM programme.
Course content
Safety and legislation.
Biology and identification of pests, weeds and diseases.
Biological, chemical and cultural control of pests, weeds and diseases.
Nutrient deficiency symptoms.
Agronomy of potatoes, cereals, sugar beet, oilseed rape and grass.
Crop rotations and soil management.
Auditing and monitoring.
Energy and waste management.
Positive habitat creation and conservation.
Quality and safety in the food chain.
For more detailed information about the syllabus please refer to the BASIS website: www.basis-reg.com
Qualification
A successful candidate will qualify for the BASIS Certificate in Crop Protection. This course contributes to the BASIS Diploma in Agronomy and the newly accredited Harper Adams University 'Graduate Diploma in Agronomy with Environmental Management'. This course will also accrue Continuing Professional Development (CPD) points.