BSc (Hons) / BSc
Animal Behaviour and Welfare (Clinical)
Entry requirements for 2017
I am currently studying/I am
Saturday 13 May
9.30AM - 4.00PM
UCAS code: D390
Institution code: H12
Application: please include GCSE results on your UCAS application form.
File: Student Handbook
Share: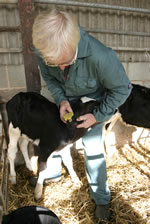 The course
Do you long to find out why animals behave the way they do and what this can tell us about their welfare? Do you care passionately about the welfare of animals but realise that applying scientific principles is likely to achieve better results than responding in a purely emotional way? Then this course is for you.
This degree enables those interested in the behaviour and welfare of companion and farm animals to study at degree level without covering the broader animal health sciences in detail. You will examine animal biology as it relates to the behaviour and welfare of animals, and have the opportunity to study ecology in relation to animal habitats.
All main groups of farm animals are represented on our farm and the Companion Animal House has a range of exotic and companion animals.
Students carry out an animal-based investigational project in their final year, looking at an aspect of animal behaviour or welfare.
Choose your route
This degree has two routes: clinical and non-clinical.
The clinical route has been validated by the Association for the Study of Animal Behaviour (ASAB) accreditation committee as delivering the academic elements necessary for an individual to achieve ASAB certification as a clinical animal behaviourist (CCAB). All of the modules on this course are core (compulsory) to satisfy ASAB's requirements.
The non-clinical route (see module tables) does not lead to the CCAB qualification but does include a choice of optional modules.
Accreditation
This course has been awarded full accreditation from the Association for the Study of Animal Behaviour (ASAB) and is now "formally validated by the ASAB Accreditation Committee as delivering the academic elements necessary for an individual to achieve ASAB certification as a clinical animal behaviourist".
Individuals who graduate from this course, with at least a 2:1 degree classification, will be recognised by ASAB as having fulfilled the academic requirements of ASAB certification, and as an accredited course the graduates do not have to pay the fee for review of their academic standards by ASAB so long as they show evidence of having graduated from the programme with at least a 2.1.
What does a Clinical Animal Behaviourist do?
A Certified Clinical Animal Behaviourist (CCAB) consults with pet owners in order to address concerns owners have over behavioural problems with their animals. Examples of behavioural problems include aggression, separation anxiety, fear of people or objects or fear of fireworks. The CCAB will collect the information they require through consultation with the owner and assessment of the animal and then address the problematic behaviours through development of management regimes based on scientific principles and evidence. The CCAB will then support the owner through the treatment period. A CCAB will only take on a client through referral from a veterinary surgeon.
If you are interested in finding out more about CCAB Accreditation please visit the ASAB website
Work placement
Students undertake a placement during their third year in an animal-related organisation of their choice. You may want to gain experience working at animal hospitals and shelters, research facilities, zoos and wildlife parks, veterinary practices, livestock farms, stables, catteries and kennels or other animal-based organisations.
You may also be interested in the following related courses:
Contact information
For course related enquiries please contact:
Course structure
Lectures are complemented by tutorials, visits and practical classes. Depending on the module, practicals may take the form of laboratory work, behaviour/welfare assessments or animal handling in the Companion Animal House or on the farm.
Assessment methods
A wide range of assessment methods are used. Depending on the module these include examination, assignments, practical spot-tests and presentations.
Learning in Higher Education – how is it different?
Whilst a student's prior experience or qualifications should prepare them for Higher Education, most will find that study at university level is organised differently than they might have experienced at either school or college. Higher Education sets out to prepare students to think and learn independently, so that they are able to continue learning new things beyond their studies and into the workplace, without needing a tutor to guide them. This means that the time spent in classes with tutors provides direction, guidance and support for work that students undertake independently through:
finding useful information sources and compiling bibliographies of reading material, in paper and online
reading and making notes to help make fuller sense of subjects
engaging with online materials and activities found on the College's own virtual learning environment
preparing assignments to practise skills and develop new insights and learning
preparing for future classes so you can participate fully
In order to develop the skills of a graduate (whether at Foundation Degree or Honours Degree levels), students are expected to not only be able to recall and explain what they know but also to be able to:
apply what they know to new problems or situations
analyse information and data and make connections between topics to help make sense of a situation
synthesise, or draw together, the information and understanding gained from a range of sources, to create new plans or ideas
evaluate their own work and also the work of others, so that they can judge its value and relevance to a particular problem or situation
Tutors will expect students working towards a Degree to be able to use what they know to solve problems and answer meaningful questions about the way in which aspects of the world work and not just rote-learn information that they have been told or read, for later recall. This means using all the bullet-pointed skills and to think critically by questioning information, whilst also being rigorous in checking the value of the evidence used in making one's own points. Students will be expected to become increasingly responsible for recognising the areas where they themselves need to develop. Taking careful note of tutor feedback can help to identify the skills and abilities on which attention could usefully be focused. To be successful, students need to be self-motivated to study outside of classes, especially since in higher education, these higher level skills need to be practised independently.
At Harper Adams students are gradually supported to become less reliant on class-based learning, so that they are able to spend a greater proportion of their time in their final year working on projects of interest to themselves and in line with their future career aspirations. Whilst in the first year of a course, a student might spend around one-third of their time in class, they will typically spend 15 - 20% in class by the time they reach their Honours year. At Harper Adams, we are fortunate to have not only an extensive estate and great facilities for students to use as a source of information and inspiration, we also have a well-stocked library and access to countless specialist sources of paper-based and online information. Many of the staff at Harper Adams are involved in research work, which helps ensure the content of the courses is at the forefront of the discipline. This also means that amongst the library books and online journals that students use, there may be some familiar names.
The Bamford Library and Faccenda Centre each have spaces in which students can work, either individually or in small groups, using either their own laptop computers or the provided desktop computers, all of which can access the network. Working spaces are zoned to reflect different working conditions, so there is a study space for everybody, whether they need silence or work better in a livelier environment.
This course prepares graduates for careers involving animal behaviour and also in animal welfare and management. Increased awareness of animal welfare and behaviour issues has opened up more employment opportunities in the animal sector.
Organisations that house animals are becoming more aware of the need for employees to understand animal welfare and behaviour.
Welfare organisations are expanding, and nutrition and pharmaceutical companies have careers suitable for graduates with a sound welfare education. Many graduates move into higher education as lecturers or researchers and others choose further postgraduate study.