RESEARCH Do cats react to relaxation music?
8 July 2010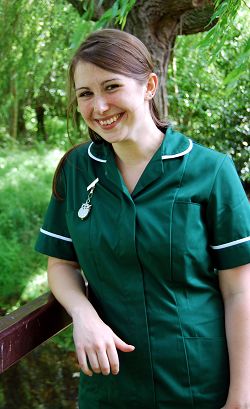 A final year student at Harper Adams University College has found that relaxation music can help cats to relax when they are in a veterinary surgery.
Sian Barr, from Waterlooville in Hampshire, has recently completed her dissertation entitled: "The effects of music in a veterinary environment on the stress levels of feline patients."
The 21-year-old chose the subject because although people had previously investigated similar projects involving feline stress levels in a cattery, Sian believes that a veterinary surgery is more stressful because the animals are handled in an unfamiliar way.
The former Cowplain Community School student, who is due to graduate in September with a BSc (Hons) degree Veterinary Nursing and Practice Management, said: "Stress in small doses can actually be a good thing, such as if a cat is under a stress to eat, then it can perform better. But otherwise, it will have a negative effect, such as in a veterinary practice.
"This is because a cat is in a cage and isn't able to do what it would like to do, so stress levels will increase and it will become wound up and angry. This is bad for not only its behaviour, becoming difficult for staff to handle, but also for its immune system and ability to heal."
To conduct the investigation, Sian monitored two groups of cats – one that was not exposed to music, and another that was played relaxation C.Ds. The change in their body posture was then monitored to indicate which group was more stressed.
She added: "When the animals were first admitted, I looked at their ear positions, where their eyes were, how they were communicating, activity levels and respiration levels. I then repeated the test after 40 minutes and was able to assign each cat a number, or cat stress score.
"By comparing the scores, I found that the music had a dramatic effect on respiration rates, with those exposed to the music decreasing to a relaxed rate much quicker than those not exposed. Although the other signs didn't change over time, this proves that cats can respond to music."
Sian hopes that other students at Harper Adams will continue her hard work by conducting the same research, but at an urban practice. She said: "I used a rural vets, but in a different sort of practice, the music may have a different effect all together.
"Once I've graduated in autumn, I hope to travel to New Zealand and use my qualification to work as a vet nurse and I may even be able to implement some of this research."