Students scoop show scholarships
3 June 2011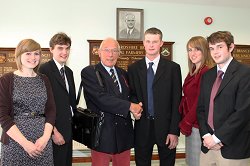 The scholarship's prestige will hopefully help me to secure a job in my chosen career, and will give me the confidence to know that although I am not from a farming background, I am still able to be successful in an agricultural career, due to the teaching at Harper Adams." - Emma Cairns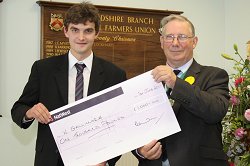 Five students from Harper Adams University College have been awarded £1,000 scholarships from the Staffordshire and Birmingham Agricultural Society.
The scholarships were presented at Staffordshire County Show, on June 1 by Society President Robert Madders to local students Harriet Wilson, James Haslam, Emma Cairns, Will Gallimore and Peter James.
Harriet Wilson, 19, from Haughton, Stafford, is in her first year of the BSc (Hons) agri-food marketing with business studies programme at the Shropshire University College. She said: "Many thanks to the society for this generous award. Primarily, this will be of a huge assistance to develop my education but also to subsidise my stay in London this summer. The reason for my stay is to complete an eight-week food product development placement at Sainsbury's Head Office. This is a great opportunity and will help me to develop on my knowledge of the industry.
"On completion of my degree, I hope to gain a post-graduate placement within the agricultural/product development department of a supermarket chain or with a major supplier. With a better understanding of supply chains and supermarket demands, I ultimately hope to return to the family farm and work alongside my parents to develop our beef enterprise."
Harriet, an active member of Eccleshall YFC has become well-known around the Harper Adams campus because she writes a "College Calendar" blog for the Farmers Weekly, detailing life both on campus and back home on her family's 260-acre livestock farm, where she runs her own herd of British Blue cattle. She is a committee member of the NW British Blue Breeders Club, a member of the NW Midlands & N Wales Limousin Breeders Club, and is also involved in "Ladies in Beef", a group of women who are passionate about the beef industry and feel that the quality of British beef in under-valued.
James Haslam, 20, is in the third year of his off-road vehicle design degree and currently undertaking a year in industry with JCB. James, whose family run a dairy farm in Marston Montgomery, Ashbourne, Derbyshire, said: "Receiving this scholarship is a great honour. This award will help with my plans to experience agriculture in a range of countries by working in harvesting around the world after I graduate. Ultimately, I would like to work for a large agricultural equipment manufacturing company." When he is not working or studying, James is a keen footballer, playing for Harper Adams and a home team; and he also enjoys shooting, taking part in clay contests when he can.
Emma Cairns, 21, is studying BSc (Hons) Agriculture with Animal Science and is also out on placement for her third year. She hails from Essington, south Staffordshire (near Wolverhampton). She hopes to eventually work for an animal nutrition company, advising farmers and animal owners on the nutrition needed to get the most of the their animals. She said: "This award will help me to buy books that will be in high demand, particularly towards the end of the year, and so not always available from the library. The scholarship's prestige will hopefully help me to secure a job in my chosen career, and will give me the confidence to know that although I am not from a farming background, I am still able to be successful in an agricultural career, due to the teaching at Harper Adams."
William Gallimore, 21, from Kingstone, Uttoxeter, is a BSc (Hons) countryside and environmental management student, also in his third year and out on placement. He said: "I am very pleased to have received this scholarship. I'm hoping it will be put towards some exciting excursions – I'm hoping to travel to New Zealand after I graduate to further the learning I have done for my Harper Adams degree. Ultimately I would like to return work at my family's dairy farm because it is something I am passionate about."
Peter James, from Endon, Stoke-on-Trent, is also our on placement for the third year of the BSc(Hons) agriculture programme. He said the support from Staffordshire and Birmingham Agricultural Society would help to pay for his final year tuition fees. "Ultimately I would like to go back home and run the 200-head beef herd and hopefully expand the farm as well as continuing to market the beef through our existing family run butchers' shop," added Peter, a member of Leek YFC for more than 10 years.
The Staffordshire and Birmingham Agricultural Society plays a leading role in the development of agriculture and the rural economy within the region. Its work includes support for business and social welfare in rural communities, education and regional shows and events. The students had to apply for these competitive scholarships, which are open to young people from the area covered by the agricultural society – not just from Harper Adams.
At the awards ceremony, Harper Adams Development Trust Chairman Anthony Burgess gave thanks to Staffordshire and Birmingham Agricultural Society for its generous support of the University College's students. The Development Trust aims to improve the experience of every student by raising funds for both capital investment in college facilities and a wide-ranging programme of scholarships.
Click on images below to view slideshow