NFU Tenant Farming Conference
15 November 2011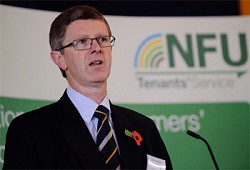 we have a generation of people who are committed to farming, who we will need to help tackle the global challenge of food security and help secure our own food supply, but who face the challenge of finding a route into the sector."
On November 10, Harper Adams University College hosted the 2011 NFU Tenant Farming Conference.
Opened by Principal Dr David Llewellyn, the conference featured talks and presentations by NFU President Peter Kendall, Deputy President Meurig Raymond, Minister of State for Agriculture and Food Jim Paice, and Julian Sayers, Tenancy Reform Industry Group Chairman.
The conference also heard from Will Gemmill, of Strutt and Parker, and young tenant farmer Gareth Barlow, and the event was attended by several Harper Adams students who had been personally invited after they expressed their interest in and concerns about the future of tenant farming. Watch the video to see what the students had to say.
In his opening address, Harper Adams Principal Dr Llewellyn said: "We are delighted to be acting as the venue of this event for two main reasons. Firstly, we are in the business of farming. We run a commercial farming operation which relies on the skills of our farm staff to ensure that they demonstrate the real world application of modern farming practice to our students
"The other reason is that there are issues of direct concern to the tenant farming sector which are of considerable interest to our students. Although 82 per cent of our students have a rural background, not all of them who want to work in the industry come from a family farm. And if they do, there is no guarantee they will work on or take over that farm in the immediate future."
Harper Adams had its highest ever intake of agriculture students this autumn, 176 students. Dr Llewellyn continued: "So, we have a generation of people who are committed to farming, who we will need to help tackle the global challenge of food security and help secure our own food supply, but who face the challenge of finding a route into the sector."
Meurig Raymond added: "It is good news to see a record number of students wanting to work in agriculture, horticulture and allied industries to farming. It shows to me the excitement there is in farming and food production… We all know the dynamics: nine billion people to feed by 2050, maybe 17 million to feed in the UK by 2026. These are the challenges we face, and I think this is the reason there has been an upsurge in interest in agriculture and farming."
On the day the Minister, Jim Paice, announced a new £20million fund to help rural business increase profits and reduce their impact on the environment. Under The Farming and Forestry Improvement Scheme, farmers, foresters and horticulturalists can apply for grants of up to £25,000 to invest in green projects and new machinery.
The Minister also said, during a question and answer session, that a final decision on a badger cull in England would be made before Christmas.
Peter Kendall revealed that the NFU was working with the Country Land and Business Association (CLA) in a bid to improve tenancy agreements.
Further coverage of the event can be found via the following links:
Tenant Farmer Gareth Barlow's blog
Kendall calls for improved landlord-tenant relations – Farmers' Guardian
Kendall warns over new farming entrants handicap – Farmers' Weekly
Tweets from the event can be viewed here.