Harper Adams Polo Club
7 June 2012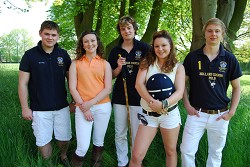 THE Harper Adams Polo Club is looking forward to welcoming new students ahead of the autumn term.
Members have been busy preparing a video and other promotional material to encourage both current and prospective students to consider joining.
They hope that soon-to-be Harper students will see their hard work and feel enthused and ready to join the club when they enrol in September.
Polo Club Captain, Richard Felce, said: "We practice polo, play in tournaments against other universities and have regular social events.
"No previous experience is necessary, it's a really good thing to be involved with."
Students from across all courses are welcome to join, with members coming from a range of different backgrounds.
Chairman, Matt Woodhead, said: "I think if you want to keep in touch with equestrian activities that you've done outside of Harper, then polo is a really good thing to do. You get an adrenalin rush and the social side is great as well.
"But if you haven't done it before, you do feel really involved. There's a good team spirit.
"We've been really successful in competitions too - our beginner teams came second nationally in the SUPA winter tournament; and beginner team B came first and beginner team A came second in our respective divisions in the summer tournament. We also beat the RAC to win the NFU Agricultural Colleges Polo Cup."
Watch the Polo Club promotional video to hear from other members of the executive including Secretary, Mil Bosley and Social Secretary, Charlotte White.