Companies showcase poultry scholarships
8 November 2012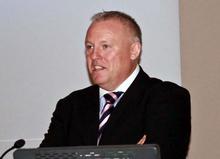 I could not ask for anything more in a placement. It is harder than I thought it might be, but very interesting and I hope I can help to move the business forward."
Ten companies from across the British poultry industry came to Harper Adams University College last week for an event designed to match students with scholarship-supported work placements.
The British Poultry Council in association with Aviagen, Bernard Matthews Foods, Cargill Meats Europe, Cranberry Foods, Faccenda, Gressingham Foods, Kelly Turkeys, Moy Park, P D Hook, and Vion, is offering a great opportunity in their goal to encourage young adults into the Poultry sector.
The council will award up to 16 scholarships to second year degree students and first year foundation degree students studying agriculture and/or food production.
The companies and the students were united at the annual BPC scholarships open day, held in the Regional Food Academy at Harper Adams. Andrew Ballantyne, Agriculture Director at Bernard Matthews, gave a motivational speech to the students. He said: "I have been in this industry for 32 years and always found it exciting and enjoyable. I've had a great career with great opportunities and I have travelled the world. Every day, I wake up and I go to work, and I am never bored!"
The BPC scholarships offer both a significant contribution towards the scholar's tuition fees and a paid work placement for the student's year in industry.
Current scholar Tom Heseltine has been on placement with his sponsor, Faccenda, for four months and loves the experience. He said: "I spent the first few weeks on the shop floor, getting to know everyone and how everything works. Then I went to Essex and onto the breeder farms that produce the eggs for the hatcheries and shadowed the farm manager there for two to three weeks. He taught me a lot. I am now back at the hatchery and have started a research project looking at why some eggs don't hatch.
"I could not ask for anything more in a placement. It is harder than I thought it might be, but very interesting and I hope I can help to move the business forward."
Fellow placement student Emma Buckley is working for Bernard Matthews. She has just completed three months' work in a hatchery and moved on to breeder-rearer farms, and will later move to layer farms and commercial farms.
"The good thing with Bernard Matthews is that I have had opportunities to look at other sections of the business and not just agriculture, because I am studying agri-business, so I wanted to see other sides of the company. I have touched on a bit of sales and marketing and other sections of the business… I absolutely love it, it's really hands on. My favourite part is that I am learning through doing it myself and I now, 100 per cent, want a future within the poultry sector, hopefully with Bernard Matthews!"
Lars Brattinga, General Manager with Moy Park, a company new to the BPC scholarships scheme this year, said that Harper Adams students would have a wide range of opportunities with his company, all designed to mould them into the multi-skilled professionals the industry is crying out for.