Chilly change for lecturer Tom
26 November 2012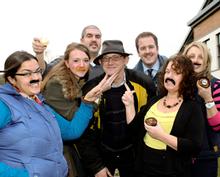 Harper Adams University College lecturer Tom Underhill was feeling the cold a little more than usual after lunch today – having shaved off his beard for charity.
Tom, who specialises in agricultural engineering and off-road vehicle design, made a promise at the start of the month that he would remove his trademark beard if the Harper Adams Mo Bros – the University College's team taking part in the Movember challenge – managed to raise £1,000.
That target was reached late last week and so today – the official Movember (and Fauxvember) day on campus – he took the plunge.
An audience gathered in the student bar at 1pm to watch Tom first remove the majority of the beard with clippers, before switching to an electric razor and finally a wet razor, before the final result was met with rapturous applause.
About his motivation, Tom, 49, said: "We were in the staff room, and colleagues were talking about the various efforts they were making for Movember. One colleague has been pestering me for quite some time about getting rid of my beard, so when the suggestion was put to me, to remove my beard if they raised £1,000, I thought, 'Yes! that is the sort of thing we do at Harper Adams, that is how we keep the Harper Spirit alive'."
Ben Harper, Harper Adams Mo Bros team captain, said: "We want to thank everyone who has donated so far, but we are not finished yet, we've got the rest of the week to go. Other fundraising efforts include cake sales, a korfball tournament and the women's Fauxvember effort. It has been a bit weird to see so many of my female colleagues sporting moustaches today, but good on them for getting behind such a good cause.
"I'm looking forward to reaching the end of the month, at the end of this week, and seeing how the Mo Bros have got on with their moustache growing efforts. They are certainly looking impressive!
"Movember isn't just about raising funds, we are raising awareness too, and student services have arranged various opportunities for the men on campus, of any age, to undergo health checks."
Anyone wishing to support Movember by sponsoring the Harper Adams Mo Bros can do so here.
More pictures from the big shave can be found here.
During November each year, Movember is responsible for the sprouting of moustaches on thousands of men's faces in the UK and around the world. The aim is to raise vital funds and awareness for men's health, specifically prostate cancer and testicular cancer.
Watch the video to see Tom's beard shave.