Launch of veterinary physiotherapy masters
27 August 2009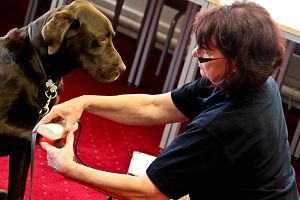 A postgraduate course that can open up a wealth of opportunities to vets, veterinary nursing and other animal-related course graduates was launched at Harper Adams University College today.
The course was developed in collaboration with the National Association of Veterinary Physiotherapists (NAVP) and on successful completion, will lead to both an academic award and professional membership of NAVP.
Following a veterinary referral, the MSc Veterinary Physiotherapy will qualify students to provide support during an animal's recovery from injury or surgery as well as in preparation of the athletic animal – skills which are under increasing demand given the number of animals owned and cared for in the UK and a general wish for high standards of animal health and welfare.
"Harper Adams University College (HAUC) has a long history of successfully delivering animal science related courses in conjunction with animal healthcare organisations for individuals and their employers," says Carwyn Ellis, Head of the Animals Department at Harper Adams.
"This programme is another example of collaboration, this time with the National Association of Veterinary Physiotherapists. Delivery will be provided by colleagues from Harper Adams and Reaseheath College, technical specialists who are members of NAVP and also external academics.
"The collaboration is supported by the REEDNet project, which is being led by Harper Adams and aims to develop and arrange delivery of training specific to rural employers' needs.
"The course is designed for graduates and will offer a range of animal science graduates a qualification that is recognised by qualified veterinary surgeons and leading sector insurers, and will help them take their careers forward into a specialised area."
"Dr Gail Williams (Director of Education, NAVP) said, "While there are courses available that offer qualifications on a distance-learning basis, there can be no substitute for this in-depth training, which offers a hands-on practical approach with course material being delivered face-to-face by practising professionals leading to a credible qualification recognised by veterinary surgeons."
NAVP secretary Halina Tombs is a practising equine physiotherapist based in Warwickshire, who treats equines ranging from family ponies to top race horses.
She says: "Equine physiotherapy has evolved from something that was once regarded as alternative to a recognised therapeutic approach. Our role is to support the veterinary profession in providing a high level of care in the rehabilitation of injured animals and in keeping athletic animals at their peak.
"Vets increasingly recognise the important contribution physiotherapists can make but do not always find it easy to distinguish between the therapists offering their services. This qualification will help by making practitioners easily recognisable. "
The MSc course would typically be delivered on a part-time basis and studied over three academic years, with students completing the 'taught' modules within the first two years and completing a Masters Dissertation within an individually negotiated timescale over a one to two year period.
To find about more contact Emily Chapman at Harper Adams on 01952 815042, email echapman@harper-adams.ac.uk For information on the work of the NAVP visit http://www.navp.co.uk/