AD plant highly commended at Recycling Awards
4 July 2012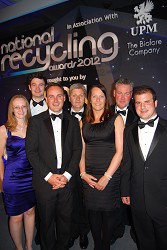 The anaerobic digestion plant at Harper Adams University College was last night highly commended at the National Recycling Awards.
The Harper Adams entry was a finalist in the Best Energy from Waste Initiative, which was won by HRS Heat Exchangers. Having chosen a winner, the judges also singled out the Harper Adams project for recognition with a "highly commended" certificate. The category sought to reward organisations that demonstrated innovation and environmental benefit in recovering energy from what might previously have been seen as a residual waste destined for landfill.
Paul Moran, Estates Manager at Harper Adams, said: "We are delighted that the value of our project, which has the potential to offset out campus carbon emissions more than three times over, was highly commended at the National Recycling Awards.
"The project benefits farmers and others who could adopt the technology to save or even make money; students learning from it as a demonstration facility; every community whose food waste is fed into it and diverted from landfill; and the environment. We were able to see the value AD offered when we embarked upon this ambitious project, and recognition such as this is welcome proof that our efforts are valued at national level."
More than 600 key figures in recycling and waste management had gathered at the Lancaster London Hotel to recognise and reward the leading companies in the industry.
Former England Rugby star and Strictly Come Dancing competitor Austin Healy presented the awards ceremony and congratulated the winners first hand. And after the ceremony guests enjoyed a live casino and carnival stalls with traditional fairground prizes.
Read more about the Harper Adams anaerobic digestion plant at www.harper.ac.uk/haad