'HEC' of a time at Harper Adams
25 July 2007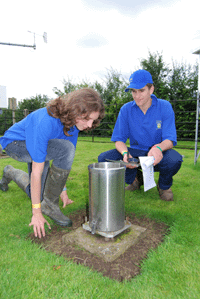 This month Anna England from Bridgetown Dulverton, Somerset, joined over 300 students to sample a taste of university life at the Higher Education Choices (HEC) Conference at Harper Adams University College, Shropshire.
Anna attended the HEC Conference and particularly enjoyed one of the sample sessions; 'Drilling for Gold' where he found out about soil quality and factors that effect soils. She said 'I have really enjoyed the HEC Conference and it has helped me find out about the various courses on offer here and about what it is like to study at university.'
The annual two-day conference has fast become the UK's most important careers event, giving 16-18 year old students the opportunity to experience university life and assist them find out about studying agricultural, animal, food, business or other rural-based subjects at HND and Degree level.
During HEC there were careers and study advice, seminars, practical activities and social events. Advisers from universities, colleges and businesses from across the UK came together to assist answer questions, give advice and generally talk of the diverse range of courses and career opportunities within the land-based sectors.
The HEC conference proved to be a big hit with the students who had travelled from as a far as Cornwell, East Anglia, Northumberland and Northern Ireland to the Shropshire-based University College.
Sally Bishop, co-ordinator of the event said: "This is a fantastic way for teenagers to experience university life. It is about empowering young people so that they can make decisions and plan for their own future. It is essential to help them find out what opportunities are out there." She continues "We have had a phenomenal response, with over 300 students attending. This is the highest attendance in the 20 years of HEC. The feedback that we have had from students is extremely encouraging. They have had a wonderful time, and as well as making lots of new friends, they have learnt a great deal about degree and HND courses as well as university life in general."
The students attended some fascinating taster-session activities to help them find out more about the courses on offer. The session ranged from Gorgeous Gateau, Food - tempted to try it, Drilling for Gold – soil testing, Practical Surveying, Sheep and Pig Production, Simulating Destruction, Power Hydraulics, the S Word - Sustainability in the Real World and Discovering DNA, to name but a few.
HEC was topped off by the infamous 'Red Shirt's Challenge' where the current students at Harper arranged some challenging social activities!
Harper Adams will be continuing with the conference's success with the 21st celebration of HEC next year on 7th and 8th July 2008.