£2.3million dairy unit officially opened
2 September 2009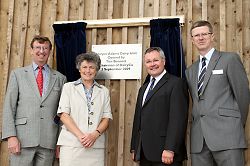 About 1,000 people turned out to preview the new £2.3 million dairy unit at Harper Adams University College when it was officially opened today.
Harper Adams is delighted with the turnout for the event, which was well received by both visitors and exhibitors, many of whom said they made a significant number of new connections during their time on the Shropshire site.
Professor Wynne Jones OBE, retiring Harper Adams Principal, welcomed the visitors and special guest Tim Bennett, Chairman of DairyCo, who unveiled the plaque at the official opening at Midday.
Professor Jones said: "This event gives the college an opportunity to emphasise that the new dairy unit has a number of functions. In order to be able to withstand some of the costs, it has to be commercially sensible and viable. Over and above that, it has to provide a very good teaching facility for all of our students, and a facility for research and extension – because we want to communicate our research, particularly to those of you who are farmers and those in the farming industry.
"We want to leave you today with the impression that it is your facility to use. We are willing to discuss work, projects and the use of the facility for events and days like today."
Mr Bennett said: "I really do appreciate the invitation to open what is a fantastic new dairy unit. It's going to be a fantastic teaching establishment and that bodes well for the next generation of people coming into the dairy industry."
He said that particular praise was due to the Governors and staff who, some years ago, took the brave decision to develop a new unit at Harper Adams rather than pull the college farm out of the industry altogether, because when that decision was made the industry was facing tough times, from which it is now starting to recover.
"DairyCo was only put together about 18 months ago. We were challenged as a levy body spending dairy farmers money to develop a plan to cope with now rather than the past. The majority of the board clearly stated that they wanted everything to be spent, as far as possible, on keeping dairy farmers in Great Britain and that meant good information, better investment in research and development and better knowledge transfer.
"Having gone through a decade or more of when production agriculture was 'not needed', now all of a sudden science, technology and producing food is back on the political agenda.
"The next generation to go through this college is going to be a great asset to this industry and will be very much needed. I think there's a great future in dairy farming and I think it's incumbent on the way we use your money, as dairy farmers. And hopefully we can have long term partnerships with Harper Adams and other educational establishments over the years to come. Good luck to you all."
At the event Professor Jones took the opportunity to introduce Harper Adams University College's new Principal Dr David Llewellyn, who started in the position on September 1. He explained that there was a one-month overlap because he retires at the end of September, claiming it was "quite fitting" for Harper, with its big plans to make multi-million pound investments in the farm and campus, to have two principals.

For more about the unit itself see: http://www.harper-adams.ac.uk/press/article.cfm?ID=2951