Service Desk
Getting help
Email: servicedesk@harper-adams.ac.uk
Phone: 01952 815555
Internal phone: ext 5555
Location: First floor of the Bamford Library
Online self service
Use the online self service to report IT issues or to request a new item or service.
Opening times
Term-time
0845 – 2200 Mon – Fri
1000 – 1700 Sat - Sun
Vacation
0845 – 1700 Mon – Fri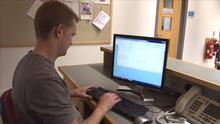 Assistance with absolutely anything AV or IT-related is available throughout most of the university day from staff at the Servicedesk. It's a one-stop-shop to help our staff, students and visitors get the very best out of our systems. If we don't know, then we'll know someone who does know...
We can help with:
Using our software, equipment and facilities
Sorting out faults and problems
Referring our students and staff to good sources to purchase
PCs, laptops, notebooks, and tablets, usually at discounted rates
Referring our students and staff to good sources to obtain computer software, often at special academic licensing rates
Exploring ways that IT may be able to help you individually with your everyday work or study
Arranging face-to-face training sessions for groups of users
Giving you access to online training materials for common software applications
Offering test facilities for accredited courses such as those through Microsoft Academy
You can drop by to discuss this in person, make an appointment, or contact us anytime by phone or email.